Licensed Aesthetician, Certified Laser Technician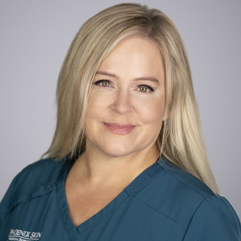 Kimberly was born in Wisconsin and raised in Phoenix, Arizona. She worked in Sales & Marketing for many years and was inspired to pursue medical aesthetics after seeing her daughter's passion for the field. Upon graduating, Kimberly worked in a Day Spa as an Aesthetician and Laser Technician.
Kimberly joined the Phoenix Skin Spa family in the summer of 2018, where she continued to gain education and training on some of the most advanced treatments such as Tattoo Removal, Vein Treatments and Micro needling with PRP and continues to advance in Chemical Peels, Laser Hair Reduction and Photo Facials.
Kimberly's favorite part about being an Aesthetician is learning new facial treatments and laser technology, along with helping patients achieve their skin goals. In Kimberly's free time, she enjoys her family, hiking and watching football.
Phone: (602) 222-9111
Email: [email protected]
Education
Southwest Institute of Natural Aesthetics and Laser
Certificates
Arizona Radiation Regulatory Agency (ARRA) – Laser Technician
Arizona Radiation Regulatory Agency (ARRA) – Laser Safety Officer
Venus Certified
Alma/Soprano Certified
Obagi Medical
Rhonda Allison
PCA Skin Advanced Certified Professional
Eminence
Dermaplaning