PicoSure Laser
Consultations offered at our two convenient locations in Phoenix and Scottdale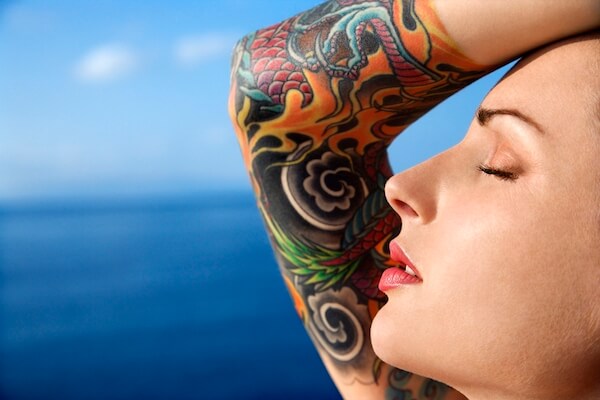 Are you one of the thousands living with bad tattoos? Are you thinking about a tattoo cover up? Or are you just tired of your tattoo? Bad tattoos are no longer a permanent mistake.
The PicoSure Laser is the fastest laser in the world for tattoo removal, clearing tattoo ink in about ½ the number of treatments required by older lasers in the Arizona market (for a list of old lasers see PicoSure facts below). PicoSure is changing the tattoo removal experience with fewer sessions needed, with less pain, and at a lower price. Now is the time to remove that old tattoo!
Tattoo Cover Up
If you want to replace a tattoo, but you're not interested in a much bigger more elaborate costly design, let Phoenix Skin prepare you for that tattoo cover up using the same laser tattoo removal process.
The same process allows the tattoo to fade enough for a tattoo artist to easily cover it with a new tattoo! See our Before and After Photos for tattoo removal before and after pictures and witness how the tattoos fade with each treatment.
Before and After Photos
PicoSure Facts
FDA approved for tattoo removal in December 2012.
Phoenix Skin is the only practice in Arizona to offer the PicoSure Laser and one of about 30 locations in the US. The PicoSure laser delivers energy to the tattoo ink in picoseconds, which is one hundred
Faster laser = quicker clearing of tattoo ink.
Less time is needed between treatments (PicoSure: 4 weeks) versus existing lasers that require 6-8 weeks.
Easily removes blue, green, orange and yellow inks, which were once considered the toughest colors to remove with existing nanosecond technology (aka the older tattoo removal lasers).
Studies reveal greater than 75% overall ink clearance in only 1-2 treatments.
PicoSure is removing tattoos in about ½ the number of treatments required by older lasers on the market. Older lasers on the market aka old technology include: Q-Switched Ruby, ND YAG, RevLite, AlexELETE, Astanza, MedLite, Sinon, Palomar and Spectra.
If you have more questions about PicoSure Tattoo Removal, refer to our answers below.
How Does Laser Tattoo Removal Work?
Laser tattoo removal is the most effective, non-invasive method of safe tattoo ink removal. The lasers used aby Phoenix Skin for tattoo removal are designed to effectively target the ink that resides just under your skin.
Using different wavelengths of light to address the many different colors used in tattoos, the laser breaks down the ink particles into smaller fragments which are then removed through your body's natural cleansing process.
This cleansing process generally takes between 3 to 4 weeks to remove the maximum amount of ink pigments.
Tattoo Removal Cost & Packages
The cost per treatment starts at $45 for a 1" x 1" size tattoo and increases based on the dimensions of the tattoo. Please reference our pricing chart below for PicoSure tattoo removal cost.
Military discount of 10% is available (must show id).
No office minimums are required as you may find elsewhere (please call to schedule a consultation to get PicoSure cost).
Also, unlike other practices, there is no pressure to prepay for treatment packages. Care Credit financing is also available.
Contact Us Today!
If you are one of the thousands living with bad tattoos or you're tired of your tattoo, call today for a tattoo removal consultation.
Videos
Pricing Information
Price

Up to 1 Square Inch

$

45

Up to 5 square inches

$

100

Up to 10 square inches

$

150

Up to 15 square inches

$

200

Up to 20 square inches

$

225

Up to 25 square inches

$

250

Up to 35 square inches

$

275

Up to 45 square inches

$

300

Up to 55 square inches

$

350

Up to 65 square inches

$

400

Up to 75 square inches

$

450

Up to 90 square inches

$

500

Up to 100 square inches

$

525

Up to 125 square inches

$

600

Up to 150 square inches

$

650

Call for removal pricing of tattoos larger than 150 square inches. Multiple tattoo discount available. Price reflects cost per individual treatment and is subject to change.
A $50 non-refundable fee is required to schedule a consultation and can be applied towards treatment. Less than 24-hour notice for cancellation and/or no show will result in a forfeiture of the $50.
FAQ
How long does the procedure take?
Tattoo removal treatments can range from 15-30 minutes depending on the size of the area(s) treated and if topical anesthetic is being used or not.
What can I expect post-procedure?
You may experience mild-moderate inflammation and redness post treatment for 1-10 days. You may also see a white tissue response called "frosting" which subsides within a couple hours. Total healing time can range from 1-3 weeks. You will need to keep the area bandaged during the healing process and avoid prolonged sun exposure during the course of your treatments.
When will I see the results?
Each tattoo is very different and there are many factors to consider like depth of the ink in the skin, how your body metabolizes the ink and how many/ which colors are used. Most patients see a 10-20% reduction after each treatment.
How long do the results last?
Laser tattoo removal results are permanent.
Can I book my first treatment without a consult?
Yes, Phoenix Skin can provide an initial consultation, then treat the tattoo immediately after the consult.
How many treatments will I need?
The number of treatments depends on the size, ink color and depth of the tattoo, but since PicoSure is 100x faster than any other laser on the market, fewer sessions will be required.
Why is the price per session more expensive than other places in town?
PicoSure has a couple of advantages over other tattoo removal companies:
• Shorter timeframe between treatments and
• Fewer treatments necessary for removal (about 1/2).
If you do the math, the cost is less, and the tattoo is removed sooner. Additionally, Phoenix Skin has no hidden charges for numbing (unlike other practices who add it to the cost of the treatment) and no office visit minimums.
I have three tattoos that fit into the "box." Can I get that price instead?
No, each tattoo is priced per treatment, per individual tattoo.
Is there a discount available for multiple tattoos?
Largest tattoo is regular price. 25% off for any additional tattoos (based on quote from consultation). Discount applies on all tattoos treated at the same appointment.
Can I purchase a package of treatments at a discounted rate?
Phoenix Skin does not offer discount packages because the PicoSure Laser removes ink so quickly, it is difficult to estimate how many treatments will be needed.
Does PicoSure work on permanent makeup?
Eyebrows only – they are $150 per session to treat both eyebrows. PicoSure cannot be used on permanent eyeliner.
Does PicoSure remove red ink?
The Revlite laser removes red ink more effectively than PicoSure. If you happen to have a tattoo that contains red ink, Phoenix Skin will use the PicoSure for removal, paired with the Revlite to handle the red ink at no additional cost.
Will the PicoSure treatment hurt?
The treatment feels somewhat similar to getting a tattoo. Our staff can numb the area prior to the procedure if necessary, for comfort. Patients may experience some redness, bruising or crusting after being treated that will quickly subside within about one week.
Does Phoenix Skin do multiple treatments on the same tattoo in a single appointment?
Some practices offer multiple treatments in a single appointment, known as the R20between treatments, which means that you will be spending up to 2 hours being treated. Lastly, the time between appointments is extended to between 3 and 6 months.
Why do I have to wait 3-4 weeks between treatments?
The PicoSure laser tattoo removal treatment, using PicoSure Focus Lens, will break up the ink pigments into smaller pieces. The time required between treatments allows your body to naturally remove them. The PicoSure difference is that those broken up ink pigments are smaller than other lasers on the market, allowing your body to more effectively remove them, thus the recommended time between treatments is shorter.
Is PicoSure used for removal of anything else?
Yes, it is also effective in clearing, age spots, Café au lait, brown spots, Nevus of Ota and birthmarks. In some cases, PicoSure can also address traumatic scars. Scheduling a consultation is recommended for evaluation of the area to be treated.