Earlobe Repair
Consultations offered at our two convenient locations in Phoenix and Scottdale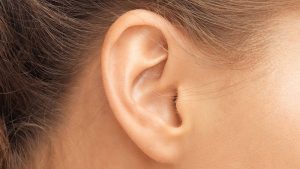 This is a simple, common, cosmetic procedure for torn or elongated slits from ear piercing and earring wear. The procedure consists of "freshening" the edges of the split and placement of sutures to complete the repair of the earlobe.
After the healing, very minimal scarring remains allowing for an aesthetically pleasing end result. The ear can then be re-pierced in 4-6 weeks.*
Earlobe Reduction
This procedure is designed to remove excess skin and tissue of earlobes that have become wide or elongated. Dr. Laris will remove the skin and suture the lobe area leaving only a faint scar in the back of the earlobe, thus allowing for the aesthetic reshaping and ear rejuvenation. The technique used will depend on your ear's current shape and the result you wish to achieve.
Before and After Photos
Earlobe Wrinkling
This condition can be corrected by one of the above procedures and also by laser treatment. This will aide in restoring a smooth and youthful texture to the earlobe.
Contact us today at (602) 222-9111 to learn more about pricing and what treatment is recommended for your earlobes
Pricing Information
Service

Price

Earlobe Repair- Bilateral (Both)

$

600

Earlobe Repair (Single Earlobe)

$

350

Earlobe Reduction

Consult Required

Gauged Earlobe Repair – Bilateral (Both)

$

1400

Gauged Earlobe Repair (Single Earlobe)

$

750