Hand Rejuvenation
Consultations offered at our two convenient locations in Phoenix and Scottdale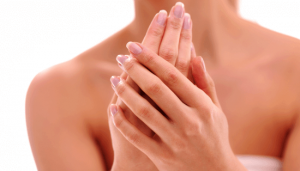 Hands are one of the most "tell-tale" signs of aging because of their extensive use and unprotected sun exposure. As we age, the back of the hands may develop sun spots and the skin becomes thinner and loses plumpness and firmness, thus revealing tendons and joint protrusions.
Restoring Aging Hands
Dr. Laris uses a combination of modern techniques to restore a more youthful appearance to the hands. These rejuvenation treatments that can produce dramatic results, leaving hands younger and smoother. Dr. Laris recommends the combination of Fat Transfer and TCA Peel, in order to achieve the desired results.
Fat Transfer (autologous fat grafting)
Your own fat will be used as a soft tissue filler material to improve the appearance of thin skin, veins, and enlarged knuckles. The fat is taken from one area of your body (usually the abdomen) and harvested through a very small incision. The fat is then processed (cleansed to remove excess fluid and oils) and re-injected through very small incisions into the regions to be rejuvenated or depressions that need improvement.
Dermal Fillers
Dermal Fillers plump and firm the skin, thus making the veins/tendons less pronounced. This is a simple procedure and results may be seen immediately.
Skin Tightening
Venus Freeze is an FDA approved, non-surgical treatment to firm and tighten skin. Venus Freeze uses (MP)², a combination of multi-polar radio frequency and pulsed magnetic fields; which uniformly heat up the tissue in the skin, stimulating collagen-making cells and fibers. A series of 8 weekly treatments is recommended.
MicroNeedling with Platelet Rich Plasma
Microneedling uses a sterile needle-tip containing 12 tiny micro-needles to create controlled micro-injuries to the skin. This initiates the skin's repair process to naturally produce collagen and elastin, ideal for smoothing fine lines and wrinkles. Micro-channels created by the treatment allow for optimal absorption of Platelet Rich Plasma (PRP), enhancing their effects in the deeper layers of skin. Click here to read more about Platelet Rich Plasma. A series of 3 monthly treatments is recommended.
Please note: When treating the hands with any procedure, patients are advised to avoid sun exposure for 4-6 weeks after treatment to protect the delicate, newly formed layers of skin and prevent pigmentation changes in the skin.
Contact us today at (602) 222-9111 to learn more about what treatment is recommended for your hands.
Pricing Information
Service

Price

Fat Transfer

Call for consultation

Dermal Fillers

$

450-650 per syringe

Venus Freeze

$

165 per treatment

Microneedling with PRP

$

385 per treatment

Microneedling with PRP (Pkg of 3 Treatments)

$

990

Prices include treatment on both hands
FAQ
How Long Does the Procedure Take?
The procedure takes about an hour and is performed under local anesthesia in the privacy of Laris's office.
What Happens After the Procedure?
You are permitted to go home after the hand rejuvenation procedure. Your hands will be bandaged for 24 hours and ice packs will be provided for your hands to reduce any swelling, as well as a compressive garment where the fat was harvest from. Strenuous activities including straining, bending and lifting should be avoided for the first week, since these activities might cause compromised results. After one-week you will return for a follow up appointment.