HydraFacial
Consultations offered at our two convenient locations in Phoenix and Scottdale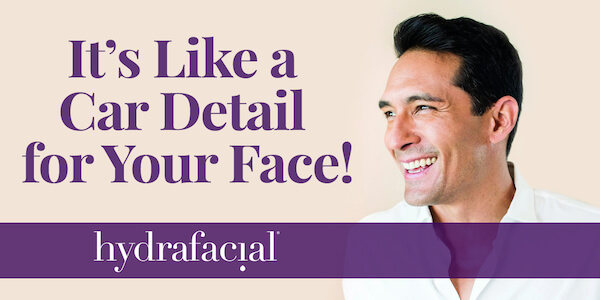 Take a simple step toward the fresh, glowing skin you have always wanted and book a HydraFacial at Phoenix Skin Medical Surgical Group! What is a HydraFacial? The HydraFacial is a 4-step treatment that removes dead skin cells and extracts impurities while bathing the skin with cleansing, hydrating and moisturizing serums.
Best of all, it requires no downtime post-treatment. During the first step, the skin is cleansed and exfoliated. Then, an application of a solution of glycolic and salicylic acid is applied. Afterwards, a vacuum-powered extraction tip lifts away dead skin cells and other debris from the pores. And finally antioxidant and collagen-rich serums are applied into the skin to promote elasticity and hydration.
Whether you use a HydraFacial for acne, anti-aging, or to simply brighten up, your skin will feel cleaner, fresher and hydrated!
Many inquire what the difference is between a regular HydraFacial and a HydraFacial MD. The HydraFacial MD is the treatment you want because the applied products are at a higher, more potent level that only medical offices that are supervised by a Doctor can use. This means better results and outcomes!
Benefits of a HydraFacial
The HydraFacial treatment is a favorite because the skin feels and looks fresh with a healthy glow, plus with no downtime you can pop in for one during your lunch break! Whether you are interested in HydraFacial for acne, sun spots, age-related fine lines, blackheads or another concern, you will enjoy the results this painless treatment provides. Here are some of the major benefits you can expect when you book a HydraFacial with us:
A fast, 30-45 minute treatment experience (time ranges depending on the package selected)
Soothing, refreshing and non-irritating
Immediate results, with no downtime
Improved skin tone and texture
Reduced appearance of blackheads
With integration of level 1 & 2 serums, the HydraFacial MD can address:
Fine lines and wrinkles
Sun damage and dark spots
Skin texture irregularities
Rosacea
What is the HydraFacial cost?
HydraExpress $175
Patented 4-step HydraFacial: cleanse, exfoliate, extract and hydrate.
HydraLuxxe $255
HydraExpress plus level 1 booster.
HydraMax $280
HydraExpress plus level 2 booster and 10 minutes of red LED light therapy.
Clarifying Hydrafacial $255
HydraExpress plus additional extractions and 10 minutes of blue LED light therapy.
A La Carte
Perk Switch Lips – $50, Eyes –$75
Neck add on $50
Décolleté $60
Neck & Décolleté $100
Aesthetic consultations require a $50 deposit that can be applied towards treatment. Less than 24-hour notice for cancellation and/or no show will result in a forfeiture of the $50 deposit.
Book Your HydraFacial With Our Skin Experts
Phoenix Skin Medical Surgical Group specializes in a wide variety of skin treatments and procedures, all aimed at helping you achieve your best self. Our team is committed to bringing you the latest techniques and procedures, including the HydraFacial. Schedule a consultation to learn more.