Lip Filler
Consultations offered at our two convenient locations in Phoenix and Scottdale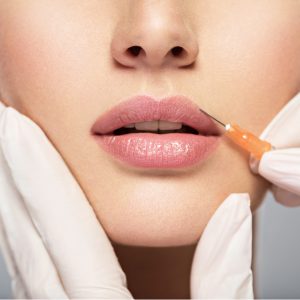 A lip augmentation with dermal filler is a cosmetic procedure to enhance volume in the lips and in some cases, sharpen the vermilion border (upper lip line) to address and soften lipstick/smokers lines. Hyaluronic acid fillers such as Juvéderm Ultra and Juvederm Volbella are designed to transform thin lips. These formulations provide the most natural results for filling lips or lip augmentation. Hyaluronic acid (HA) is found naturally in nearly all body tissues, so allergic reactions are rare. When Juvéderm Ultra or Juvéderm Volbella is injected in the lips, it corrects creases and immediately adds fullness, creating a smooth, plump lip
Phoenix Skin Medical Surgical Group offers tailored lip filler treatments to help you get the look you want. To book a personal consultation to discuss lip fillers, and other dermatological and cosmetic treatments, please call our Phoenix office at (602) 222-9111 or Scottsdale at (408) 473-9111.
Before and After Photos
About Dermal Fillers
Most semi-permanent dermal fillers are made from hyaluronic acid. HA is already present in our skin, so it's biocompatible and body safe. The Juvéderm range of fillers provides volume and smoothing for many areas of the face with its tailored formulation. A meta-analysis of many studies worldwide has confirmed that lip augmentation with injectable HA is an efficient way to increase lip fullness. (1)
How Does it Work?
Hyaluronic acid, known as hyaluronan when it is produced naturally, is a key molecule in skin moisturization. It has the ability to hydrate, fill space, and lubricate joints. It is found throughout tissues, although 50% of it is in our skin. (2) But how and why was it chosen for fillers?
When injected into tissues, fillers like Juvéderm provide natural-looking volume. Scientists can alter the physical and chemical properties of the HA, depending on its intended placement. The HA concentration, molecular linking, chain length, and size of the particles themselves can all be adjusted to suit the area of the face being treated. (3) Because of this versatility, HA fillers can be used to treat a number age-related issues, including:
Nasolabial Folds
Marionette Lines
Chin and Jaw
Vermilion Border (Upper Lip Line)
Cheek Hollowing
Thin Lips or Lips That Have Lost Volume Over Time
Juvéderm is one of the most well-known HA filler brands. What's more, some formulations, like Juvéderm XC contain the numbing agent lidocaine for patient comfort.
Juvéderm for Lip Augmentation
Thinner lips can make our face look unbalanced. Our lips can appear thinner and more wrinkled with age, or it could be hereditary. Whether it's genetic or acquired, thin lips can make us feel self-conscious. In fact, deflating vermilion (the upper part of the lip line) is the most common patient complaint, followed by drooping angles on either side of the mouth. (4) With just a few strategic placements of filler, patients can achieve an enviable, more youthful-looking pout.
According to the aesthetic requirements of the patient, placement of Juvéderm lip fillers will vary. We can perform your lip augmentation to achieve the exact results you're looking for! For genetically thin lips, the filler is placed deeply, followed by superficial filler volume correction. Where a patient seeks cosmetic enhancement alone, a superficially placed filler emphasizes the white roll and vermillion of the lips (the uppermost border of the lips, where pinker skin meets lighter skin). (4)
Benefits of Lip Fillers
With lip fillers, patients can:
Enhance naturally full lips
Volumize thinner lips
Restore volume to aging lips
Maintain facial symmetry and balance
Natural-looking firmness and plumpness
Tighten skin around the lips
Achieve renewed self-confidence
One of the greatest benefits of HA filler procedures is that they're injected in a short, in-office procedure that's usually complete in under 30 minutes. Patients are free to go home immediately afterwards, and there's no extensive aftercare!
Candidates
Candidates for lip fillers come from all walks of life. Many younger patients come to us to enhance their lips, opting for Juvéderm over "lip flip" Botox as a matter of personal preference. Patients with thinner lips, and those who wish to address age-related lip thinning may find a lip filler treatment to be beneficial. Juvéderm is generally very well tolerated by most patients, however, you may not be able to get HA lip fillers if:
You have severe allergies
You have experienced a severe anaphylactic shock in the past
You are allergic to gram positive bacteria
You are allergic to lidocaine
Visit the Phoenix Skin blog for further details about our cosmetic and dermatological services.
Personal Consultation
To talk with one of our facial filler specialists, book an appointment at Phoenix Skin. We invite you to talk to us about the lip aesthetic you want to achieve with fillers. Once you have filled out some basic health information, we will explain how Juvéderm can augment your lips to your desired look. Once we have reviewed your details, and determined if lip fillers are right for you, we will schedule your procedure.
Preparation
There isn't too much preparation to do before you get lip fillers. Before your appointment:
Don't drink alcohol 24 hours before your procedure
Stop smoking two weeks before treatment
Don't wax or bleach the area surrounding the lips
Avoid taking medication that thins the blood (e.g. aspirin)
Arrive to our offices with a clean face
At your personal consultation, we may inquire if you have had a cold sore outbreak in the past. If you have, we recommend taking antiviral medication such as valacyclovir (Valtrex) where indicated to prevent a possible resurgence. Similarly, if the skin of your lips, or the area around the lips has a localized infection, please call us and we will be happy to reschedule your procedure.
Procedure
A lip filler procedure is fast and straightforward. Your provider will invite you to sit comfortably while the filler is prepared.
Juvéderm Ultra – The formulation of Juvéderm Ultra is specifically for injection into the lips and perioral area for lip augmentation. Juvéderm Ultra XC contains lidocaine for patient comfort during injection.
Juvéderm Volbella – Juvéderm Volbella is an injectable gel for lip augmentation and the correction of perioral lines. In addition to lip augmentation, it can also be used to improve the appearance of under eye hollows. Studies have measured the effectiveness of Juvéderm Volbella compared to its closest rival. This research found that patients treated with Juvéderm Volbella had less short-term swelling and disruption of their daily activities than Restylane-L. (5)
Based on your desired results, your provider will inject your chosen filler into your lips at different locations and depths. They will then massage the gel for uniformity.
Recovery
If you have any upcoming events or outings, consider giving yourself time to heal as some patients experience swelling or bruising. You will be able to leave our office as soon as your procedure is complete, however we recommend taking it easy on the day. Additionally:
Do not rub or massage your lips during your recovery.
Refrain from wearing lipstick or cosmetic lip products for the first 24-48 hours.
Refrain from excessive lip movement, especially puckering.
Avoid eating food that requires excessive chewing.
Use a cold compress for swelling, but do not apply ice directly to the lips.
To keep your lips moisturized, use Vaseline or Carmex.
Results
The results of your lip fillers will be noticeable immediately. In the initial stages of recovery, your lips may appear larger, but once swelling resolves, you will see your brand new lip aesthetic! Juvéderm fillers last. Most patients find their lips' enhanced appearance lasts between 6 months and a year!
Cost of Lip Fillers in Scottsdale, AZ
The cost of your lip filler treatment will depend on what you would like to achieve. Qualified patients may opt to finance their Phoenix Skin procedure. For personal consultation bookings and for further treatment details, please call our Phoenix office at (602) 222-9111 or Scottsdale at (408) 473-9111
FAQ
How long do lip fillers last?
The length of time your lip fillers will last depends on how quickly your body metabolizes the filler. In most cases, they will last between 6 and 12 months.
Is a lip filler procedure painful?
Lip filler injections are tolerable for most patients. For many, it feels like a brief pinch, the effects of which will subside relatively quickly. Some filler formulas contain lidocaine to numb the area during treatment.
How much lip filler will I need?
The amount of filler required for lip augmentation varies from patient to patient according to their anatomy and aesthetic goals. To find out more, book a personal consultation with your provider.
References