Skinvive by Juvéderm
Consultations offered at our two convenient locations in Phoenix and Scottdale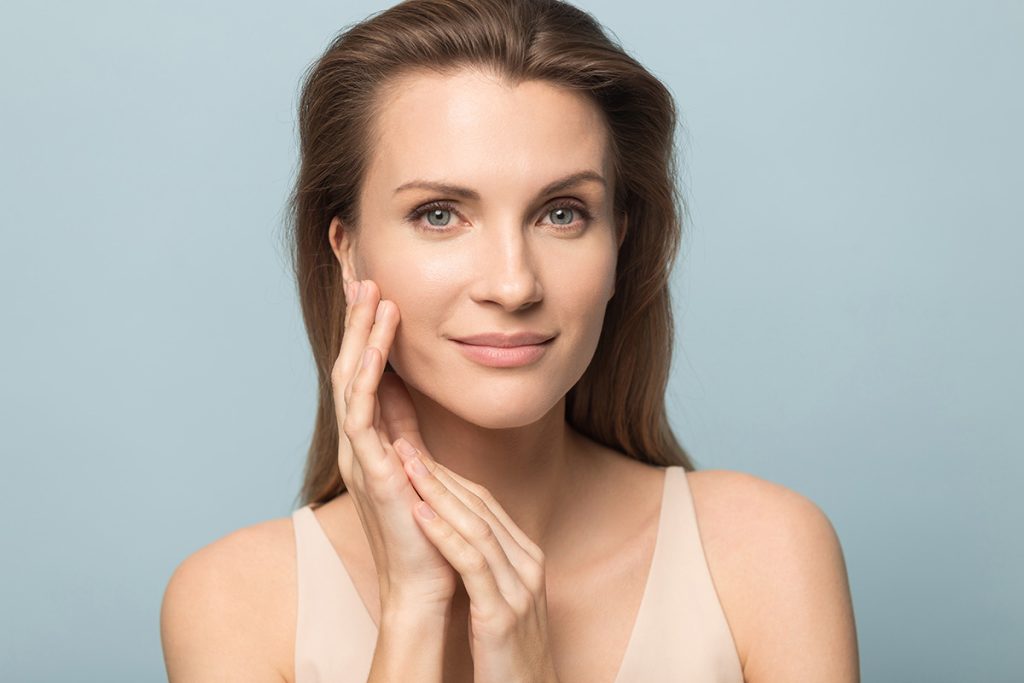 Skinvive is an innovative skin booster offered at Phoenix Skin Medical, Surgical & Cosmetic Dermatology to improve the quality and overall appearance of the skin. This new treatment utilizes the power of hyaluronic acid (HA) microdroplets to rejuvenate and smooth the skin of the cheeks, providing a more youthful and radiant appearance.
With years of experience in cosmetic dermatology, our experts are committed to providing the highest standard of care and delivering exceptional results. We understand that each patient is unique, and we take the time to listen to your goals and expectations, ensuring that you feel comfortable and confident throughout your Skinvive treatment.
To learn more about Skinvive and how it can help you achieve a more youthful and rejuvenated look, contact Phoenix Skin today at (602) 222-9111 for our Phoenix location, or (480) 473-9111 for our Scottsdale office. Our dedicated team is here to answer any questions you may have and assist you in scheduling your consultation. Enhance your natural beauty and restore your skin's vitality with Skinvive by Juvéderm.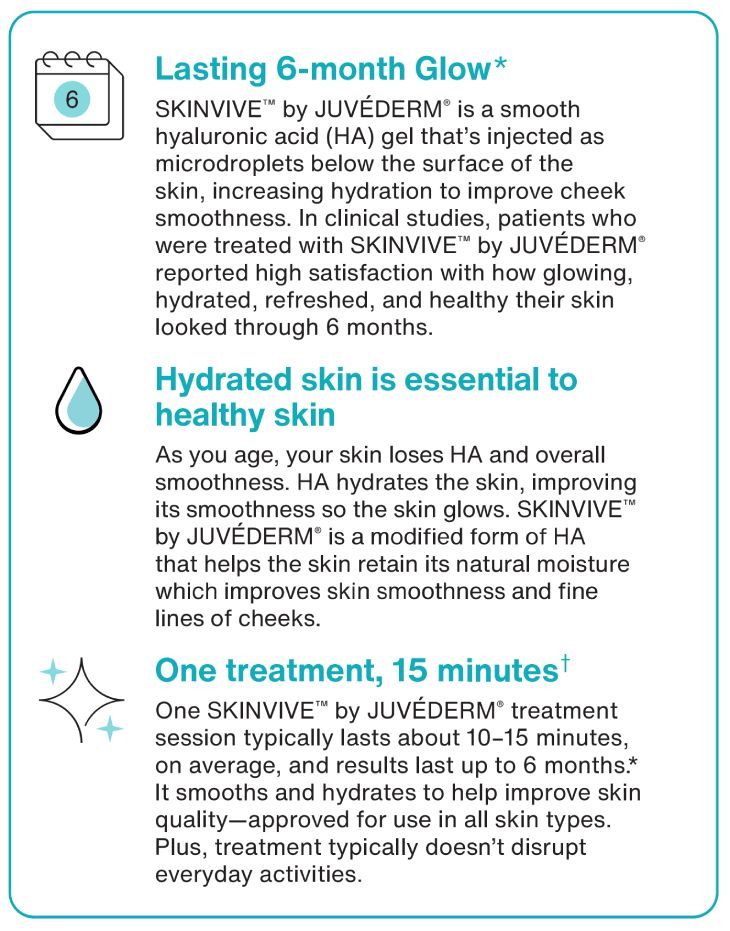 Skin Hydration
HA is a key natural component of the skin that helps it to stay well-hydrated. However, over time its presence and production diminish. In fact, scientists have discovered that HA loss in the skin starts as early as 25 years old. (1) This can result in a dull, dry complexion that lacks the youthful vigor it once had.
A lack of facial glow in the cheeks is often associated with dehydration. When the skin is not adequately nourished and hydrated, it loses its natural radiance and luminosity. Instead, the skin may appear tired, flat, and lacking vitality. One of the primary culprits behind skin dehydration in this area is a decrease in the skin's natural ability to retain moisture. As we age, our skin produces less natural oil and our ability to retain moisture diminishes, making our cheeks more prone to dryness and roughness. Additionally, exposure to harsh weather conditions, such as extreme heat or cold, can further exacerbate this issue.
The main aims of facial rejuvenation treatments like Skinvive are to achieve skin that is: (2)
Healthy
Smooth
Glowing
Resilient
At Phoenix Skin, our goal is to help you achieve a natural-looking, age-defying glow with Skinvive. Our team of experienced professionals will customize a treatment plan tailored to your unique needs and desired outcomes.
Replenishing Your Glow
Skinvive is specifically designed to hydrate the skin in the cheeks. By injecting this biocompatible gel into targeted areas of the face, we can effectively restore and enhance facial contours.
Long-Lasting Results With Vycross® Technology
Skinvive is not a dermal filler and therefore it does not augment or change the appearance of the face. It is a smooth hyaluronic acid gel that is injected as microdroplets into the skin.
Is specially formulated for the cheeks
Hydrates the skin from within
Contains numbing lidocaine
Is suitable for all skin types
Lasts up to 6 months
Benefits of Skinvive
Internal Skin Hydration: Skinvive provides a refreshed and rejuvenated look by internally hydrating the skin with hyaluronic droplet injections.
Improved Skin Quality: By enhancing collagen production, Skinvive improves the overall texture and tone of the skin, promoting a smoother and more radiant complexion.
Increased Collagen Production: Skinvive stimulates collagen production, revitalizing the skin from within and promoting long-lasting results.
Long-Lasting Results: With its innovative formulation, Skinvive provides enduring results that allow you to enjoy your rejuvenated appearance for an extended period.
Natural-Looking Rejuvenation: Our experienced doctors ensure that Skinvive treatments yield natural-looking results, enhancing your features without appearing like you've had something done.
Candidates for Skinvive
Skinvive is for individuals over the age of 21 who are looking to improve the appearance of their skin, particularly in the areas of cheek smoothing and textured skin. It's important to note that while Skinvive provides impressive results, it may not be suitable for everyone.
You should not get Skinvive treatment if you:
Have a history of severe allergic reactions (anaphylaxis)
Are allergic to lidocaine
Are allergic to gram-positive bacterial proteins
Have had previous allergic reactions to hyaluronic acid fillers
During the consultation, our experts will evaluate your unique circumstances to determine if this particular treatment is the best option for you. If Skinvive is not suitable, we will suggest one of our many other cosmetic treatments to help you achieve your aesthetic goals.
Personal Consultation
If you would like to learn more about what Skinvive can do for you, we recommend an individual consultation with one of our specialists. During your consultation at Phoenix Skin, we will evaluate your specific concerns, examine your skin, and customize a treatment plan tailored to your individual needs and desired outcomes. Skinvive can help you achieve natural-looking results that enhance your overall appearance.
If you are interested in exploring Skinvive, we invite you to contact our office in Phoenix at (602) 222-9111 or our office in Scottsdale at (480) 473-9111 to schedule your personal consultation. Our knowledgeable staff will be happy to answer any questions you may have and guide you through the process of making an informed decision about your skincare journey.
Skinvive Procedure
During treatment, our skilled practitioners will strategically inject Skinvive into the targeted areas of your face. The precise placement of Skinvive allows us to enhance your skin's natural glow and improve the overall texture and appearance of your cheeks. The result is a more youthful and refreshed look that enhances your natural beauty.
What Happens After My Treatment?
The average Skinvive treatment takes about 15 minutes. After your Skinvive treatment, it is important to note that individual recovery times may vary. Generally, patients can expect some swelling, redness, and tenderness in the treated area for a few days following the procedure. However, these side effects are typically mild and temporary. Most patients are able to resume their daily activities immediately after treatment.
Other Skin Rejuvenation Treatments
Juvéderm Family of Fillers
As well as Skinvive, Phoenix Skin offers a wide range of other injectables from Juvéderm. HA-based fillers such as Juvéderm XC and Juvéderm XC Ultra, Juvéderm Voluma XC, Juvéderm Volbella, and Juvéderm Volux are popular choices for enhancing facial contours, reducing wrinkles, and restoring lost volume. These fillers are specially formulated to provide long-lasting results while maintaining a soft and natural feel.
Platelet-Rich Plasma (PRP)
If you are seeking a natural, non-surgical approach to skin rejuvenation, PRP may be the ideal solution for you. PRP harnesses the power of your body's own healing properties to enhance the health and appearance of your skin. Platelets, which are rich in growth factors, are extracted from your own blood and then injected into targeted areas of concern. These growth factors promote cell regeneration, collagen synthesis, and tissue repair, resulting in a more youthful and radiant complexion.
Rejuvenate 3-Step Treatment Plan
Fighting skin aging often requires a multi-faceted approach. That's why Phoenix Skin has created combination treatments that provide comprehensive skin enhancement. Combining IPL photorejuvenation, laser skin rejuvenation, and a gentle glycolic acid peel, patients can experience three effective ways to improve the texture, tone, and overall health of their skin with our Rejuvenate Treatment Plan.
How Much is Juvéderm Skinvive in Phoenix?
The cost of Skinvive treatment at Phoenix Skin Medical, Surgical & Cosmetic Dermatology will vary depending on several factors. Each patient's treatment plan is personalized to their specific needs and desired outcomes, which will influence the overall cost.
$350 for 1 mL syringe
A minimum of two syringes for treatment is recommended
If you are interested in learning more about Skinvive by Juvéderm or have any questions regarding the cost, we encourage you to contact your nearest Phoenix Skin location.
FAQ
What makes Skinvive different?
Skinvive is not a dermal filler. It is a skin booster with a sole focus of restoring smoothness in the cheeks. Patients can achieve youthful and refreshed skin without the need for invasive procedures.
Is Skinvive suitable for both men and women?
Yes, Skinvive is suitable for men and women who are looking to improve the overall quality of their skin. It is a versatile treatment that can address various aesthetic concerns for individuals of different genders.
What makes Juvéderm a trusted brand in aesthetic medicine?
Juvéderm is a well-established and trusted brand in the field of aesthetic medicine. They are known for their high-quality products and innovative treatments. With years of research and development, Juvederm continuously strives to provide safe and effective solutions for patients seeking facial rejuvenation.
References
Bravo B, Correia P, Gonçalves Junior JE, Sant'Anna B, Kerob D. Benefits of topical hyaluronic acid for skin quality and signs of skin aging: From literature review to clinical evidence. Dermatologic Therapy. Published online October 21, 2022. doi:https://doi.org/10.1111/dth.15903
Ganceviciene R, Liakou AI, Theodoridis A, Makrantonaki E, Zouboulis CC. Skin anti-aging strategies. Dermato-Endocrinology. 2012;4(3):308-319. doi:https://doi.org/10.4161/derm.22804