Y Lift with Dermal Filler
Consultations offered at our two convenient locations in Phoenix and Scottdale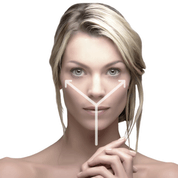 Take a good look at the letter Y. Its base is firmly planted while its arms stretch out freely. The movement of the lines is liberating. The human face can emulate the perkiness of the letter Y with the help of a Y-lift at Phoenix Skin. Under the leadership of Dr. Lee Laris, D.O., Phoenix Skin can elevate your profile and create a youthful contour. Schedule a consultation at either of our two convenient locations: Scottsdale and Phoenix. We serve central Arizona proudly, with a capital Y.
What is a Y-Lift Facelift?
Y Lift is a minimally-invasive procedure using FDA approved dermal fillers to accentuate the cheekbones, define the jawline and lift the upper neck. It is sometimes called the "instant facelift" because of how immediate the results are. One glance at a youthful visage reveals a "Y" shape, where the face appears wide at the top and tapers down to a point near the chin. This shape is often considered beautiful, vibrant, and desirable. As one ages, however, the youthful shape of the face may no longer be there because the Y shape loses structure and volume.
Using a minimally-invasive facial contouring technique, the Y Lift procedure replenishes the lost volume of our faces while restoring youthful facial contours.
As time passes, a once taut and youthful surface can become hollow and aged. In most cases, aging cannot be avoided. Fortunately, for those looking to retain that youth and recapture their beauty of old, there is a way: The Y Lift Facelift Procedure.
With an instant Y Lift facelift procedure, Dr. Laris can quickly and easily revive the ideal youthful shape that you so desire. He will also beautify your natural features, accentuating the cheekbone region and in some cases, lifting the nasolabial folds (smile lines).
About the Y Lift Procedure
Dr. Laris uses a specialized titanium cannula. A cannula is a very thin tube that delicately maneuvers to the area between the cheekbone or jawline and the muscle in order to place the filler. This specific placement helps achieve smooth, even distribution of the filler. Once the cannula is in place, Dr. Laris injects the dermal fillers using either Voluma or Juvederm. The hyaluronic acid in these fillers bonds with the surrounding tissue to create a sturdy, long-lasting foundation that lifts your cheeks and defines your jawline.[1]
Dr. Laris is a certified Y Lift Doctor and the first certified Y Lift Doctor in Arizona. He is also a Y Lift trainer and travels the United States teaching other Doctors how to perform this patented technique. He has performed thousands of Y Lift procedures with excellent results and safety.
Before and After Photos
Benefits of Y Lift
Y Lift can help redefine the jawline and upper neck area and create a youthful contour in the cheeks. This is a truly awe-inspiring instant facelift procedure without the downtime associated with traditional surgery.
Another benefit of Y Lift is how long-lasting it is. Most dermal filler injections are only skin deep. The dermal fillers in a Y Lift procedure have more longevity because they are placed between the muscle and bone, so they will not dissipate as easily as they would in the superficial layers of the skin. To recap:
Benefits of an Instant Facelift
Accentuates the cheekbone region
Adds volume to your cheeks
Refines lines around the mouth (smile lines)
Gives you a stronger, more defined line along the jaw and chin
Improves upper neck area
No incisions or anesthesia
Little to no downtime
Prime Candidates
Ideal candidates for this procedure have volume loss in the mid-face region and loose or sagging skin around the jowls and upper neck.
To determine if the Y Lift technique is right for you, please call one of our offices: 602-222-9111 in Phoenix or 480-473-9111 in Scottsdale. One of our helpful associates can direct your call and start you on the path toward heightened aesthetics!
Consultation
We want to answer these questions and address any additional concerns you may have. Call today or contact us here to schedule a consultation! In the meantime, feel free to visit our blog to see how we approach beauty, wellness, and healthy living in Phoenix and Scottsdale. 
Preparation for Y Lift
During your individualized consultation, the attentive Phoenix Skin team will provide you with detailed instructions on how to prepare for an instant facelift. Please follow these directions closely and arrange for a loved one to drive you to and from the office on the date of your procedure.
Y Lift Options
Y Lift is offered in three different variations, depending on your aesthetic goals and unique anatomy.
Y LIFT®
This minimally invasive procedure lifts the skin, accentuates the cheekbones, and defines your jawline and upper-neck area. It provides instant results as well!
Y Cheeks
Adds volume to the apple of the cheek and the cheek bone to lift and contour.
chYnjection™
This is a lower facelift procedure for the chin, which can reshape your chin and jawline.
Y EYE®
This procedure accentuates the eyes and adds fullness to a hollow temple in just 15 minutes. It also tightens and lifts the face.
Our professional team member will discuss all of these options during your consultation and answer any questions you might have. Your facial structure will guide our journey toward the proper Y Lift approach, and Dr. Laris is an excellent copilot.
Recovery and Results
There is little to no recovery time with the Y Lift. However, you may feel tender, sore with minor bruising that will subside a few days after the procedure. To see how wonderfully satisfied our past patients have been, simply visit our reviews. They are almost as radiant as your new look!
Complementary Procedures 
The Y Lift treatment is perfect for individuals who wish to recapture their youth. The support and structure offered by Dr. Laris' advanced techniques are a good fit for patients in need of volume or a lift. Many patients choose to complement the Y Lift with Botox treatment in the forehead, glabella (between brows) and eyes. Botox can soften the wrinkles in these specific areas that aren't necessarily addressed by the Y Lift alone.
Videos
References
Goa, K.L., Benfield, P. (1994). Hyaluronic Acid. Drugs. 47, 536–566. https://doi.org/10.2165/00003495-199447030-00009
Booth AJ, Murray A, Tyers AG. (2004). The direct brow lift: efficacy, complications, and patient satisfaction. British Journal of Ophthalmology. 88, 688-691. http://dx.doi.org/10.1136/bjo.2003.019232