Y Lift Facelift
Consultations offered at our two convenient locations in Phoenix and Scottdale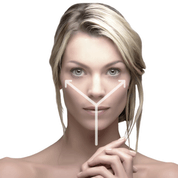 One glance at a youthful visage reveals a "Y" shape, where the face appears wide at the top and tapers down to a point near the chin. This shape is often considered beautiful, youthful, and desirable; but, as one ages, and the youthful shape of the face disappears, this Y shape can deflate and lose volume.
As time passes, a once taut and youthful surface can become misshapen, wrinkled, and aged—something that—in most cases—cannot be avoided. Fortunately, for those looking to retain that youth and recapture their beauty of old, there is a way: The Y Lift Facelift Procedure.
The Y Lift Procedure
Y Lift can help re-define the jawline and upper neck area instantly, rendering this a truly awe-inspiring instant facelift procedure that simply cannot be missed out on!
Using a minimally invasive facial contouring technique, the Y Lift procedure replenishes the lost volume of our faces while restoring youthful facial contours. With just a simple instant facelift procedure, Dr. Laris can quickly and easily revive the ideal youthful shape that you so desire, while also beautifying your natural features, accentuating the cheekbone region, and reviving the under eye region.
Before & After Photos
How It Works
Using a specialized titanium instrument, Dr. Laris will maneuver throughout the desired facial region via insertion to instantly contour and lift muscles, skin, and fat.
Once these features are lifted, the naturally occurring substance "Hyaluronic Acid" will hold the newly elevated position so the changes can take hold, restoring your natural and youthful volume.
From there, the rejuvenated face is sculpted to retain its beauty, so you may get the results you desire.
Best of all, even though this procedure may sound difficult, it is an extremely non-invasive facelift, and requires no incisions, stitches, or general anesthesia. All you will need is localized anesthesia, so you do not have to worry about any unpleasant side-effects.
Y Lift Facelift Options
The Y Lift comes in 4 different procedures, including:
chYnjection™
This is a lower facelift procedure for the chin, which can reshape your chin and jawline.
Y LIFT®
This minimally invasive procedure lifts the skin, accentuates the cheekbones, and defines your jawline and upper-neck area. It provides instant results as well!*
skYnjection™
skYnjection provides patients with instantly revitalized skin, so you can acquire a tight and beautiful glow.*
Y EYE®
This procedure accentuates the eyes and adds fullness to a hollow temple in just 15 minutes.* It also tightens and lifts the face.
Choose Phoenix Skin
Dr. Lee Laris is both a certified Y Lift trainer and Y Lift Doctor. Call today or contact us here to schedule a complimentary consultation!
Videos