Excessive Sweating Treatment with MiraDry
Consultations offered at our two convenient locations in Phoenix and Scottdale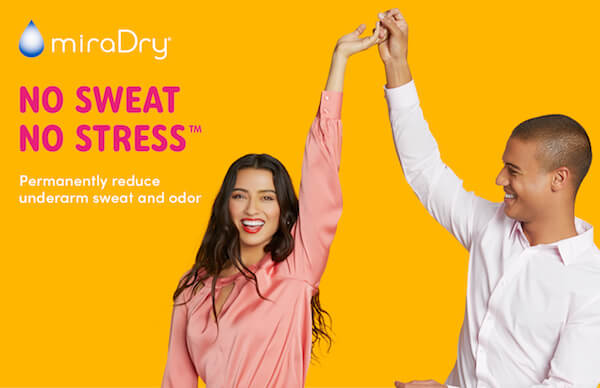 Introducing MiraDry – A permanent solution to the excessive sweating of your underarms.*
Almost 8,000,000 people in the United States (130,000 in Arizona) suffer from profuse sweating, also known as hyperhidrosis. It affects several aspects of their daily life from work, school and social settings, to even their clothing choices. It has a traumatic effect on their emotional well-being. Aluminum chloride treatments like Drysol and Certain Dri while effective for a few days, are often a time consuming, painful application (burning sensation, skin irritation).
Phoenix Skin Dermatology is the first practice in the greater Phoenix area to offer a permanent resolution to axillary hyperhidrosis (the excessive sweating of your underarms) with the MiraDry procedure.
What is the MiraDry procedure?
The MiraDry procedure is an FDA approved non-invasive method to eliminate the sweat glands in your underarms. It uses microwave energy to destroy the sweat glands, eliminating the excessive sweating problems of people with axillary hyperhidrosis. After application of a local anesthesia for comfort, the MiraDry hand piece is placed where the sweat glands reside and applies the energy that eliminates them. The treatment will take about an hour.*
What are the expectations with MiraDry?
An immediate reduction in sweat will be noticed after the procedure is complete. Some localized soreness or swelling will occur and is normal, treated with a mild over-the counter pain reliever and ice packs. Downtime is minimal to none at all. We do recommend that you not exercise for a few days after hyperhidrosis treatment. As with any medical procedure, results vary from person to person.
The eliminated sweat glands do not grow back or regenerate. A recent clinical study indicated an 86% reduction in underarm sweating. The procedure requires 2 treatments, 3 months apart for maximum results.
Aren't sweat glands used to naturally cool my body?
The human body contains over 4,000,000 sweat glands as part of its cooling system. Only 2% reside in the underarms. The remaining 98% is still more than sufficient to cool your body.
What about sweating from the hands and feet?
Presently, MiraDry is available for just the underarms (axillary hyperhidrosis). Phoenix Skin Dermatology can also treat sweaty palms (plantar) and feet (palmar) with a variety of medical options. Those options include aluminum chloride based products (Drysol, Certain Dri, etc), iontophoresis, and Botox injections.
Patient Testimonials
"I have to say the MiraDry was definitely an experience. The entire procedure in itself was painless and quick. I have experienced nothing but a positive outcome due to this procedure. For the first time in 25 years I am not embarrassed about my profuse sweating, which since the procedure has been non-existent! There was hardly any down time needed after the procedure, as stated there is severe swelling, however tolerable if rules are followed with keeping a cool compress on to minimize swelling.*

Aside from that, the MiraDry procedure went well and I am truly pleased with my results thus far. I recommend this procedure to anyone who suffers from excessive sweating. It has definitely changed my life."*
– Bridget E., Phoenix AZ
Videos
FAQ
How much does it cost per treatment?
The procedure is indicated for the underarm areas only. The cost of the procedure is $2000. Sometimes patients will need a second treatment which will cost $1000.
How long does the procedure take?
The treatment is complete in about 1-2 hours.* Local anesthetic is administered in the treatment area prior to treatment. Once the area is numb, the treatment takes about 40 minutes to complete.*
What can I expect post-procedure?
You may experience swelling, soreness, tingling, and numbness in the treated area. Typically, all will subside within a few days to a few weeks.
When will I see the results?
Once the skin response post treatment has subsided, the results can be noticed immediately.*
How long do the results last?
Most underarm sweat and odor will be eliminated immediately after the treatment. Sweat glands do no re-produce, so follow-up treatments should not be needed.
Stop the profuse sweating of your underarms today! Call Phoenix Skin Dermatology to set up a consultation – (602) 222.9111