Chemical Peels
Consultations offered at our two convenient locations in Phoenix and Scottdale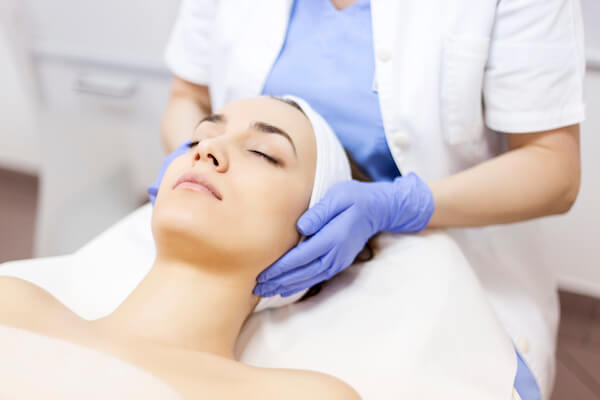 Phoenix Skin Dermatology's licensed aestheticians offer a variety of chemical combinations that are safe and effective to use on the skin to treat conditions such as: sun damage, fine lines/wrinkles, active acne and scarring.
Before and After Photos
Chemical Peels, Facials & Combo Treatments
BioRePeel
This TCA 35% peel with a mix of vitamins and amino acids stimulates new skin growth, while removing blocked pores and mitigating UV damage and fine lines. ​Very little to no downtime and safe for all skin types.
Glycolic Peel
Gentle yet powerful alpha-hydroxy acid used to increase cell turnover while minimizing breakouts and fine lines. Produces little to no peeling post treatment.
Pumpkin Peel
Rich in powerful antioxidants and vitamins essential for optimal skin health. Leaves the skin with a healthy glow. Excellent for dull complexions, rough texture, sun damage, and acne.
Sensi Peel & Ultra Peel I
Treats aging and sun damaged skin, leaving a supple and hydrated complexion. Best for all skin types and sensitivities.
PCA Jessner Peels
Exfoliates more resilient skin types suffering from sun damage, active acne, and scarring.
PCA Skin Pure Retinol 6% Peel
Heavy exfoliation designed for resilient skin types in need of rejuvenation. Blended with antioxidants to help protect against free radical damage. Ideal for sun damaged or mature skin.
Smoothing Body Peel
Potent yet gentle blend designed for acne, sun damage, and rough texture on the body. Can be used to treat the arms, lower legs, upper legs, back, chest/shoulders, or hands/feet.
VI Peels
The VI Peel
A great first-time peel for all age groups and skin types seeking multiple benefits from their peel—including tighter-looking skin, smoother texture, and renewed radiance. VI Peel Original is specifically formulated to rejuvenate, refresh, and reset for rapid, visible results safely and effectively.
VI Peel with Precision Plus
This medium-depth peel works to suppress melanogenesis—the production of melanin—at the source while promoting rapid cell turnover for more even and bright skin tone. Resurfacing action reveals brighter, renewed skin for results in 7 days for patients who struggle with melasma, uv-induced pigmentation, sun damage and hyperpigmentation.
VI Purify with Precision Plus
Addresses pigmentation issues PLUS acne/acne scarring. This superior purifying and smoothing acne treatment clears away dead skin cells and excess oil to speed breakout clearing and purify pores to prevent breakouts. By targeting melanogenesis—the production of melanin—at the source, this treatment helps minimize stubborn post-acne scars and uneven tone for a brighter, smoother surface.
Facials
Customized Mini-Facial
Deep cleansing and balancing facial designed to meet specific skin needs. Includes cleansing, extractions, therapeutic mask, application of antioxidants and sun protection
Oxygenating Trio
Stimulates circulation within the skin to promote healing and rejuvenation of sluggish, tired skin due to pollutants, sun damage, smoking, and aging.
Combo Treatments
Prepping a chemical peel with a microdermabrasion OR dermaplaning helps to remove dead surface debris allowing for enhanced benefits and penetration of the peel. Read more about microdermabrasion and dermaplaning.
Vitamin C Facial
The Obagi Professional-C Microdermabrasion Polish & Mask, combined with cleansing, extractions, toner, vitamin c serum and moisturizer will leave your skin looking smooth and bright!
Microdermabrasion OR Dermaplaning Plus Treatment add-ons
Includes application of Papaya Enzyme or Hydrating Oat Milk Mask
Includes application of Advanced Treatment Booster
Includes application of Sensi Peel I or Ultra Peel I
Microdermabrasion plus Glycolic Glow Peel:
This rejuvenating treatment combo will regenerate your youthful contours by gently exfoliating the outer layers of dead skin with no down-time. The power of glycolic acid is used to transform dull & lifeless skin to reveal a soft, smooth, and radiant complexion, leaving your skin glowing for weeks.* As dead skin is sloughed off, the cell-regeneration process is jump-started to produce healthier, more radiant skin tone and texture.
This treatment is particularly effective for improving acne-prone skin by dissolving inter-follicular debris build-up, but is safe for most skin types. Also helpful for treating fine lines, wrinkles, and hyperpigmentation.
Videos
Pricing Information
Service

Price

BioRePeel

$

250

Glycolic Peel

$

60

Pumpkin Peel

$

90

Sensi Peel & Ultra Peel I

$

120

PCA Jessner Peels

$

120

PCA Pure Retinol 6% Peel

$

240

Smoothing Body Peel

$

240

Customized Mini-Facial

$

120

Oxygenating Trio

$

90

Vitamin C Facial

$

120

The VI Peel

$

200

VI Peel with Precision Plus

$

300

VI Purify with Precision Plus

$

300

*Pricing Available Upon Consultation
A $50 non-refundable fee is required to schedule a consultation and can be applied towards treatment. Less than 24-hour notice for cancellation and/or no show will result in a forfeiture of the $50.
FAQ
How much peeling will I have after each peel?
Light to moderate flaking can occur for a few days after a chemical peel. Some patients do not experience any flaking at all.
If I don't peel then does that mean the chemical peel wasn't the correct peel for me?
No. Your skin will still absorb all of the ingredients in the solution allowing you to still see results and benefit from the treatment.
How long does the procedure take?
PCA Skin peels are unique blends of acids formulated to address many skin types and concerns. PCA has designed their peels to absorb into the skin at a much slower rate. This causes less surface irritation, dryness, or downtime.
What can I expect post-procedure?
Mild redness may occur after the treatment and usually subsides within an hour. Most patients return to work and most daily routines immediately after treatment. Sunscreen must be worn at all times. Mild flaking is possible and can start within 48 hours and last up to 3-5 days post-treatment.*
When will I see the results?
A smoother, cleaner, more even, and radiant skin texture/tone will be noticeable within a week after treatment.*
How long does the procedure take?
The chemical peels are typically scheduled for 30-45 minutes as our Aestheticians also provide extractions if necessary, application of medical grade skincare products as well as recommendation for a product regimen if desired.
How long do the results last?
Chemical peels are recommended as a maintenance treatment for many concerns such as acne, pigmentation, and overall skin health. It is recommended to have chemical peels done every 4-6 weeks to maintain your results. The more often the peels are done the longer your skin maintains a healthy glow.