Microdermabrasion and Dermaplane Facials
Consultations offered at our two convenient locations in Phoenix and Scottdale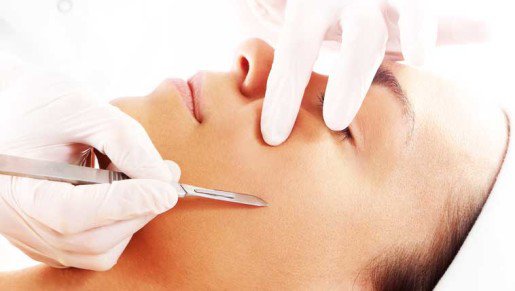 Microdermabrasion and dermaplane facials are non-invasive, exfoliating treatments that restore a youthful glow to the skin. These procedures can improve skin's texture, brighten the complexion, and treat acne scarring.
Refresh Your Face and Brighten Your Day
Has aging and the elements dulled the tone of your skin? Do you use extra foundation to hide acne scars? Maybe you've noticed a few more line lines and wrinkles. Dermaplane facials can restore the vibrancy of your face by providing thorough and efficient exfoliation. As you may know, exfoliation is a key ingredient to maintaining healthy and beautiful skin anywhere on the body. Dermaplaning and microdermabrasion exfoliation treatments leave skin with a brighter tone, smoother texture.
Phoenix Skin Medical Surgical Group specializes in skin rejuvenation. Dr. Lee Laris and his expert staff can restore that youthful glow to your complexion. If you're ready to discover the power of skin rejuvenation, book a consultation with Phoenix Skin today. You can call our offices in Phoenix at (602) 222-9111, or in Scottsdale at (480) 473-9111.

About Dermaplane and Microdermabrasion Facials in Arizona
A major cause of dull facial skin is the inevitable build-up of dead skin cells. This layer effectively hides our fresh skin. Dead skin cells can also clog your pores and increase the chance of ingrown hairs and acne. Dermaplane and microdermabrasion facials effectively remove this layer without damaging the outer layer of the skin (epidermis). These treatments also help the appearance of sun-damage, a common concern for those enjoying desert life here in Arizona. Dermaplane and Microdermabrasion facials leave you with baby-soft skin that radiates an even, youthful, dewy glow.
What Is Dermaplaning?
During a dermaplaning treatment, a medical professional uses a sterile, surgical grade blade to gently stroke your face. This removes dead skin cells, scar tissue, fine hairs, and improves the appearance of wrinkles. Impressive results can be seen after just one session, though many patients choose to have monthly or seasonal sessions to ensure maximum exfoliation. Dermaplaning is especially effective for people experiencing atopic dermatitis or hyperkeratosis, two chronic conditions that adversely affect the skin.[1] Dermaplaning was first written about in dermatology journals in the 1970s as a treatment for acne scarring. It's a safe and effective exfoliation treatment that has withstood the test of time.
What Is Microdermabrasion?
Microdermabrasion is an exfoliation technique using a special applicator that sprays fine particles to gently polish the outermost layer of skin. A specially designed vacuum removes the particles, and the layer of dead skin cells. Microdermabrasion also allows for deeper penetration and enhanced results when used in combination with treatments like masks or chemical peels. Microdermabrasion treatment includes cleansing, extractions (if needed), and soothing applications of serums, hydration, and sun protection.
What Are the Benefits?
Both dermaplane and microdermabrasion facials offer the benefits of more intense resurfacing treatments, such as chemical peels, at a fraction of the cost. These exfoliating facials resolve many issues in a simple, non-invasive procedure.
Refreshes the outer layer of skin
Restores a youthful glow
Results in softer, smoother skin
Treats acne scars
Smooths mild lines and wrinkles
Is safe and non-invasive
Suitable Candidates
Candidates for dermaplaning or microdermabrasion want to refresh their skin tone, improve texture, and diminish acne scars. Dermaplaning and microdermabrasion are considered safe and effective for all skin types. However, some skin conditions, such as rosacea, may prevent a patient from benefiting from these treatments. If you have any skin conditions, make sure to mention them during your initial consultation. Dr. Laris will let you know what kind of results to expect based on your skin's unique qualities.
Your Confidential Consultation with Phoenix Skin
We want to get to know you. During one of our consultations, we'll learn about all your cosmetic and health goals. During your consultation, we will review your complete medical history, and then provide our recommendations for how to best achieve your objectives.
At Phoenix Skin, we place your health and wellness as our highest priority. If you have a skin condition that disqualifies you from a treatment, we will let you know and devise a different, customized therapy for you. If you live in or are visiting the Phoenix area, call our office at (602) 222-9111 and discover the benefits of dermaplaning and microdermabrasion. You may also schedule a consultation online.
Helpful Preparation
Preparing for dermaplaning is relatively simple. First, stop any home exfoliation treatments for about a week before dermaplaning (you'll be advised of the precise duration during your consultation). You should also avoid direct sun exposure before treatment to avoid unnecessary discomfort during your procedure. If you are experiencing an active acne breakout or cut your face, we will postpone your dermaplaning treatment until after your skin heals.
Procedure
The dermaplaning procedure causes little, if any, discomfort. In fact, the process and sensation is similar to receiving a clean shave. Your technician will hold your skin taut and gently scrape your face in circular motions and feather-like brush strokes. When properly performed, dermaplaning will not disrupt the epidermis barrier and will not penetrate the skin. Knowing which gauge blade to use, which portion of the blade, and how to wield the blade on different areas of the face is why dermaplaning should only be performed by a professional. At Phoenix Skin, professionalism is one of our cherished values.
Microdermabrasion
A microdermabrasion facial also exfoliates, but uses a handheld device that uses fine particles to polish away the outer layer of dead skin cells.
Microdermabrasion or Dermaplaning treatments typically take 30-45 minutes as our aestheticians also perform extractions if necessary.
Easy Recovery
Recovery from dermaplaning is straight forward. You will experience no downtime. This ease makes dermaplaning popular as a "lunchtime treatment". You can return to work or school after the procedure. Microdermabrasion facials may result in minor swelling or sun-burn like symptoms for a few days after treatment. Phoenix Skin will provide aftercare instructions to protect your newly refreshed skin. You should avoid applying any make-up to your face for 24-48 hours after treatment. Also, it's important to avoid sun exposure – your skin will be sensitive after an exfoliation. Since it's hard to avoid the sun here in Arizona, we recommend applying sunscreen with broad-spectrum protection.
Eye-Catching Results
Dermaplaning and microdermabrasion are cost-effective methods of exfoliating your skin and rejuvenating your complexion. These treatments can also reduce the scarring from acne, improve the appearance of wrinkles, and treat sun-damage. It's also superb at removing the "peach fuzz" that emerges as we age. These facials are wonderful ways to achieve smooth, soft, and glowing skin.
Complementary Procedures
Microdermabrasion Plus Glycolic Glow Peel
This rejuvenating treatment combination adds the power of glycolic acid to an exfoliation treatment. As dead skin is sloughed off, the glycolic acid jump-starts the cell-regeneration process to produce a healthier, more radiant skin tone and texture. This treatment is particularly effective for improving acne-prone skin. After exfoliation, the glycolic acid is better able to penetrate pores and dissolve inter-follicular build-up. This combination is safe for most skin types. The microdermabrasion/peel hybrid is also helpful for improving fine lines, wrinkles, and hyperpigmentation.
This combination is a proven way to achieve a soft, smooth, and radiant complexion, and will leave your skin glowing for weeks.
What Is the Cost of Dermaplaning in Phoenix?
Service

Price

Microdermabrasion

$

120

Dermaplaning

$

120

Microdermabrasion or Dermaplaning + Treatment Mask

$

150

Microdermabrasion or Dermaplaning + Advanced Treatment Booster

$

150

Microdermabrasion + Sensi Peel or Ultra Peel I

$

165

Microdermabrasion + Glycolic Glow Peel

$

150
A $50 non-refundable fee is required to schedule a consultation and can be applied towards treatment. Less than 24-hour notice for cancellation and/or no show will result in a forfeiture of the $50.
FAQ
Do Dermaplane Facials Hurt?
Not in the hands of experienced aesthetic professionals such as Phoenix Skin. The dermaplane process employs 10 and 10R gauge surgical scalpels, so you want to trust an experienced hand to perform the procedure. When a trained and experienced professional, such as those at Phoenix Skin, conduct the procedure, it will feel as comfortable as a clean shave.
Can I Dermaplane Myself?
Dermaplaning is a skill that requires extensive training.[2] Dermaplaning in a professional setting uses sterile, surgical scalpels. Dermaplaning at home poses the risk of cuts, scarring, and infection.
Are microdermabrasion and dermaplaning results permanent?
Regular dermaplaning and microdermabrasion treatments are a part of an excellent skin health maintenance regime. We recommend treatment sessions either monthly or seasonally, depending on your skin type and complexion. Phoenix Skin can determine the best treatment routine for you during your personal consultation.
What does a Dermaplane facial do?
A dermaplane facial exfoliates the outer layer of the skin to remove dead skin cells, and small hairs, or "peach fuzz." It also reduces the appearance of acne scars, sun damage, and wrinkles. The result is facial skin with a smoother texture, even tone, and improved vibrancy. 
References
Townsend R. (2017) The Use of Advance Dermaplaning in Clinical Skin Care and Treatment. Clinical Dermatology Research Journal. 2:2. doi: 10.4172/2576-1439.1000117
Bennett, R. G. (1978). Review of Relevant Literature. The Journal of Dermatologic Surgery and Oncology, 4(1), 102-104. https://doi.org/10.1111/j.1524-4725.1978.tb00389.x