Psoriasis Treatment
Consultations offered at our two convenient locations in Phoenix and Scottdale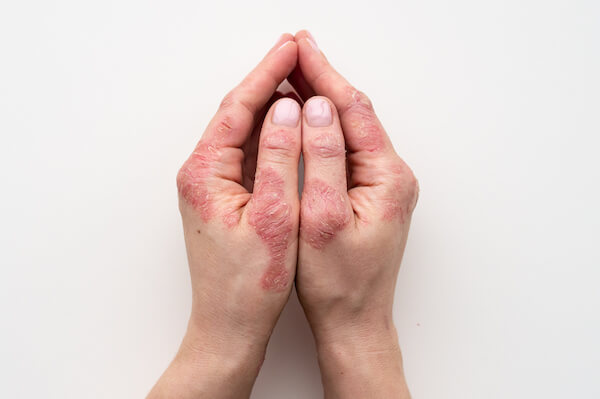 Psoriasis is a chronic, inflammatory autoimmune disease that causes itchy, scaly skin lesions. The condition causes the skin cell growth cycle to speed up, resulting in a buildup of thick, red, silvery patches. These patches are commonly found on the scalp, elbows, knees, and trunk. Although the exact cause of the disease is unknown, scientists believe that both genetic and environmental factors play a role in its development. Treatment of psoriasis controls its symptoms and prevents skin infections from developing. And although there is no cure for the disease, it can be managed.
At Phoenix Skin, we offer phototherapy and laser removal of psoriasis plaques with the advanced XTRAC Excimer Laser. To book a personal consultation with one of our medical team to discuss psoriasis treatment, please call our Phoenix location at (602) 222-9111, or our Scottsdale location at (480) 473-9111. You can also use our convenient form to send us an inquiry.
About Psoriasis
An estimated 2% of the US population has psoriasis. It can appear at any point in the lifetime, but it usually starts between 15 and 20 years of age. (1) Normal skin cells grow and shed in a cycle that lasts around one month. However, when a person has psoriasis, cells grow and shed at a much faster rate. According to the National Psoriasis Association, cell turnover completes in just 3-4 days. (2)
Plaque psoriasis is the most common form of the disease, although there are other rarer subtypes of the disease. Patients with plaque psoriasis experience a range of physical symptoms, which include the following.
Rash
Skin Discoloration
Scaling
Dryness
Flakiness
Peeling
Itching
Small Bumps
There are three treatment routes for plaque psoriasis: topical therapy, systemic therapy, and phototherapy. Using the state-of-the-art XTRAC Excimer Laser, the specialists at Phoenix Skin help patients to resolve skin lesions and achieve clearer skin.
The Immune System
Psoriasis is an autoimmune disease. Other autoimmune diseases include type 1 diabetes, Crohn's disease, and psoriatic arthritis, an inflammatory condition that one in four psoriasis sufferers also deals with. (3) The immune system protects the body from harmful pathogens outside the body. But autoimmune conditions cause the immune system to malfunction and attack healthy cells inside the body by mistake. In the case of plaque psoriasis, complex immune cell interactions cause itchy, scaly lesions. These interactions cause a cascade-like effect, triggering a positive feedback loop that makes them return again and again.
Psoriasis and Mental Health
A person with psoriasis may experience daily discomfort. It can also be tough to deal with its cosmetic effects. As an unfortunate result, psoriasis often negatively impacts mental health. Anxiety disorders, depression, and sleep disorders are common with the condition. In particular, psoriasis can cause a frustrating cycle of mental and physical strain. If psoriasis plaques worsen, both mental and physical health can decline, which, in turn, can worsen skin lesions.(4) But, with effective treatment, people with the disease can find long-term relief.
Did You Know?
In recent years, several high-profile celebrities have used their fame to raise public awareness about psoriasis, as they themselves live with the disease. They include media personality and influencer Kim Kardashian, model Cara Delavigne, and television presenter Jonathan Van Ness.
XTRAC EXCIMER Laser Treatment
Lasers are effective tools in the fight against many different skin problems. They are used by dermatologists and other medical professionals to treat acne, remove blemishes, and fade scars. Using targeted UV light, the XTRAC Excimer Laser Treatment System brings long-lasting remission and relief (typically several months) from the symptoms of plaque psoriasis. It delivers energy to the treatment area precisely, so that the surrounding healthy skin is not affected.
About Phototherapy
Phototherapy with the XTRAC EXCIMER system induces a process called lymphocytic apoptosis, which slows the cell turnover rate. The laser causes precise damage at the DNA level using UVA and UVB light at different fluences (energy wavelengths). Treatments are customized to the patient, and fine adjustments can be made to cause as little reddening to the skin as possible.
What's Different About XTRAC?
Psoriasis can be challenging to treat with medications alone. Immunosuppressant medications can weaken the immune system, leaving the body vulnerable to outside pathogens. Benefits of XTRAC treatment include the following.
FDA-cleared treatment
Safe and effective procedure
Minimal impact to surrounding skin
Does not suppress the immune system
Long-lasting remission
The XTRAC EXCIMER laser is a game-changer for people who deal with recurrent lesions. Studies indicate that patients with medication-resistant psoriatic lesions can be treated effectively with XTRAC EXCIMER phototherapy. (5) Additionally, further research shows that treatment with this type of laser requires fewer sessions than standard phototherapy. (6)
Lasting Results with Laser Treatment
Lasers have permanently changed psoriasis treatment. With XTRAC phototherapy, most patients experience significant improvement in 6 to 10 painless treatment sessions and clearance in 10 to 20 treatments. And, for some patients, remission may be possible for several months. Controlled studies confirm that psoriasis treatment with XTRAC EXCIMER technology is an excellent treatment option with few to no side-effects. (6) Individual results may vary depending upon severity.
Read more about our dermatology services here.
Candidates
Patients must be over the age of 16 undergo phototherapy in conjunction with topical and systemic treatment. Phototherapy is considered medically necessary by many insurance providers if topical management of psoriasis is limited or unsuccessful. You may not be able to undergo phototherapy if you have any of the following conditions.
Other things that may prevent you from receiving XTRAC EXCIMER treatment include pregnancy, prior radiation exposure, skin cancer, and photo-sensitive epilepsy. (7) We will take down your medical history at a personal consultation to determine your eligibility.
Personal Consultation
At Phoenix Skin, we understand the pain and frustration psoriasis can cause. And we're here to provide you with the most effective treatment regimen. This starts with a personal consultation with one of our skin specialists. We will ask you to give us some details about your medical history, including a detailed account of your experience with psoriasis. We will then examine the areas of concern and formulate a treatment plan that will be most effective for you.
The most effective way to fight plaque psoriasis is a course of several phototherapy sessions. If treatment with the XTRAC EXCIMER laser is suitable, we will arrange a date for you to begin treatment, and map out a timeline for subsequent treatment sessions.
Cost of Laser Treatment for Psoriasis in Phoenix, AZ
The cost of psoriasis treatment at Phoenix Skin depends on the treatment plan. Some patients will require more sessions to achieve desired results. For healthcare coverage information, please see our list of insurance providers. To ensure you get efficient, targeted relief from debilitating plaque psoriasis, call our intake team at our Phoenix office at (602) 222-9111, or our Scottsdale office at (480) 473-9111. Patients who do not wish to call can fill out this simple form.
Follow the Phoenix Skin blog for more information about our range of medical, surgical, and cosmetic dermatological treatments and therapies.
FAQ
Why do people get psoriasis?
Scientists don't yet fully understand why people develop psoriasis. But evidence points to a combination of genetic and environmental factors. Like other autoimmune conditions, it causes chronic problems for sufferers, so effective treatment is essential.
Is there a cure for psoriasis?
Although there is no cure for psoriasis, treatments like phototherapy can minimize symptoms, and may even result in several months of remission.
Is laser treatment for psoriasis painful?
The risk of prolonged discomfort from psoriasis phototherapy is low. Patients may experience a temporary burning with stronger fluences that quickly resolves after treatment.
References