Clear + Brilliant Touch
Consultations offered at our two convenient locations in Phoenix and Scottdale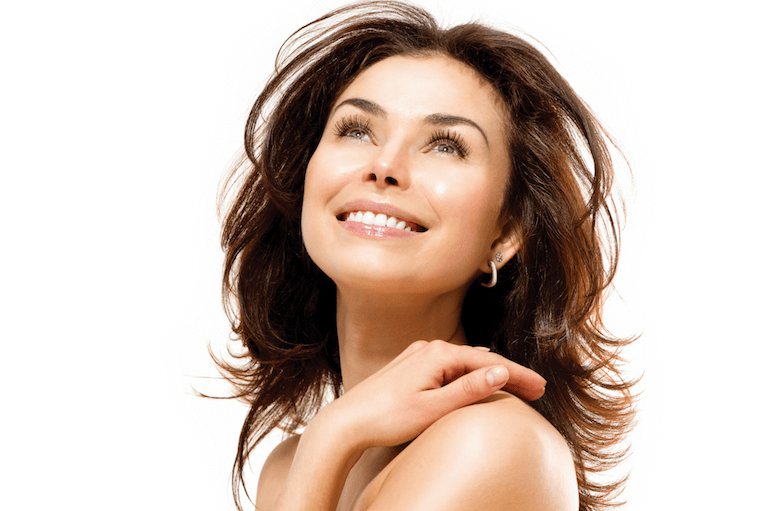 Clear + Brilliant Touch is a gentle laser treatment that can rejuvenate skin by addressing early signs of aging and sun damage while improving tone, texture, and pore size. This skin resurfacing technology was FDA approved in 2011. The new Touch system is the latest in lasers and allows aesthetic providers to complete a treatment using two wavelengths by seamlessly switching between the Original and Perméa® handpieces during one appointment.
If you're interested in seeing what this state-of-the-art laser technology can do for your skin, contact Phoenix Skin Medical, Surgical, and Cosmetic Dermatology. Call our office in Phoenix at (602) 222-9111 or our Scottsdale location at (480) 473-9111 to make an appointment for an informative consultation.
What Makes Clear + Brilliant Touch Different?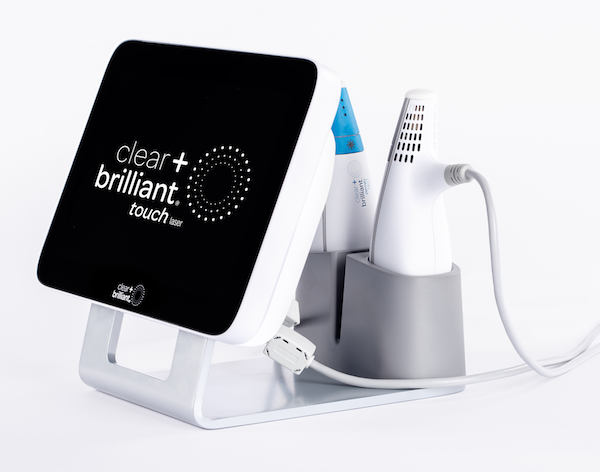 When it comes to wavelengths, the lower the frequency, the milder the effect, and the deeper that the laser is able to penetrate the skin. The lower frequency laser wavelength is able to improve fine lines, boost collagen and minimize the appearance of pores.
The higher frequency wavelengths are able to deliver a more intense, immediate energy that is best suited to treat more superficial skin concerns at a shallower depth. The higher frequency handpiece can improve skin tone, treat pigmentation issues, and increase the skin's permeability so that skincare products can be absorbed better.
Clear + Brilliant Touch has two different handpieces that each deliver a different wavelength. This means that during a session with this laser, your technician will be able to switch between the two handpieces to customize your treatment to your unique skincare concerns, both deep and superficial. (1)
Before & After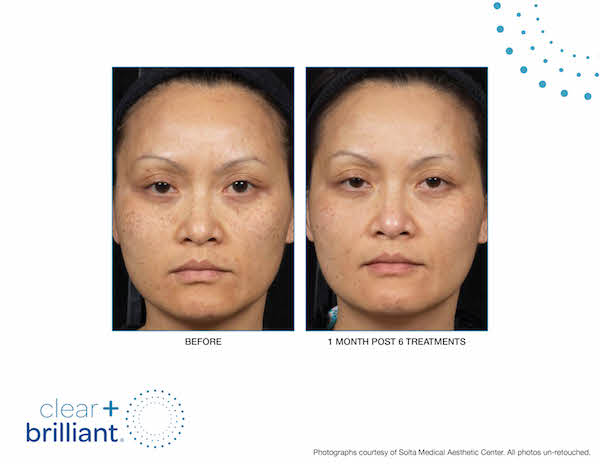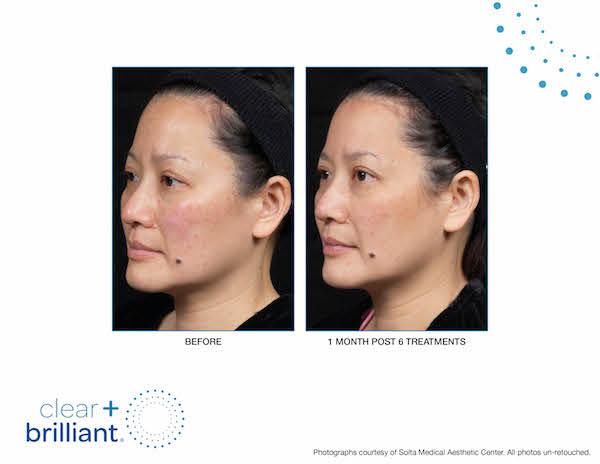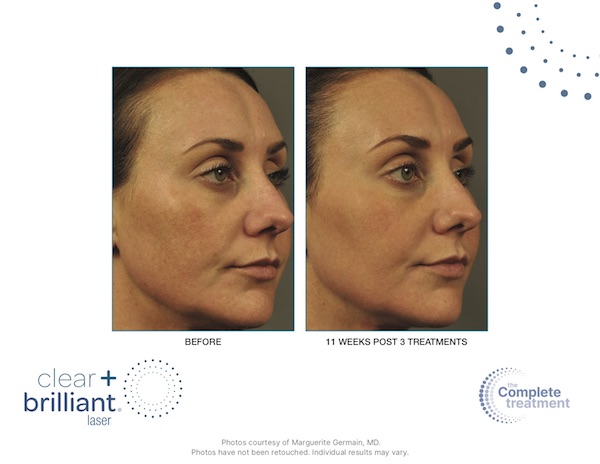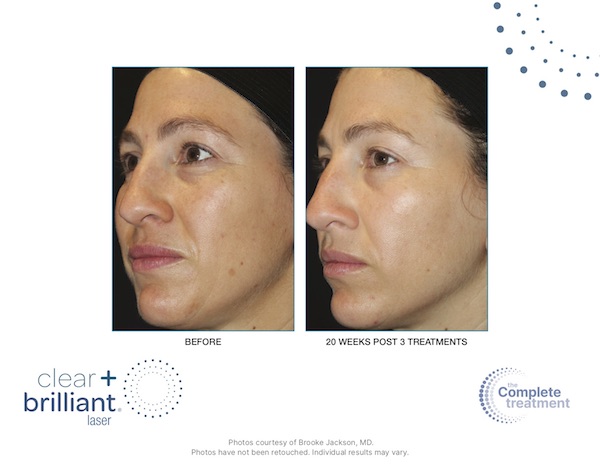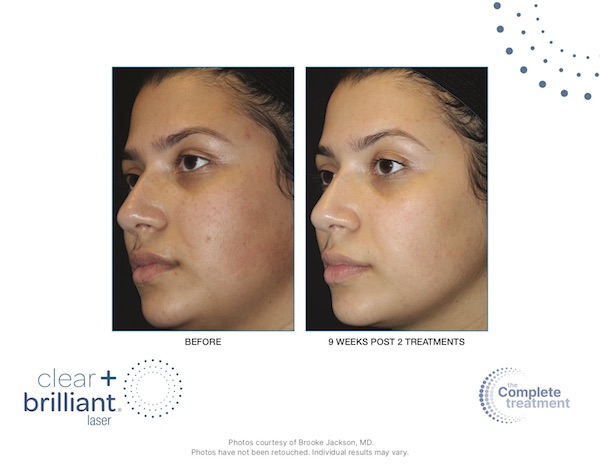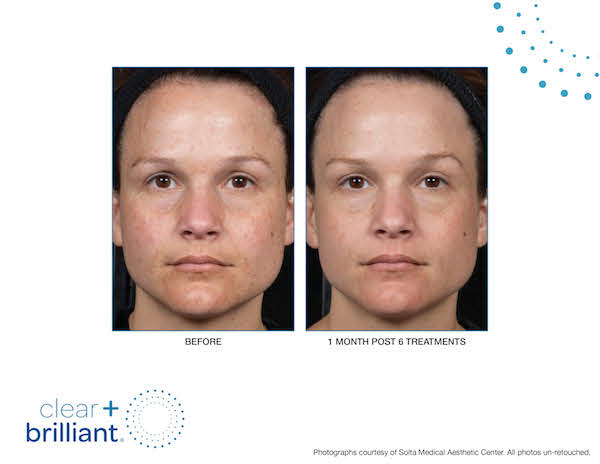 Personalized Treatment
The Clear + Brilliant complete treatment allows you to customize your treatment to achieve the desired outcomes for your skin by giving you the option to have two different handpieces in a single session. The result is a comprehensive rejuvenation tailored just for you.
Clear + Brilliant Original Treatment
A treatment with this handpiece uses gentle, low frequency wavelengths to go deep beneath the skin surface. Using this laser treatment will help improve fine lines, minimize the appearance of pores and boost collagen.
Perméa® Treatment
The Perméa® handpiece allows your technician to treat skin concerns closer to the skin surface. Perméa® treatments are an ideal way to improve skin tone, minimize the appearance of pigment, and also help to increase the absorption of skin care products such as antioxidants or lightening agents.
Clear + Brilliant Touch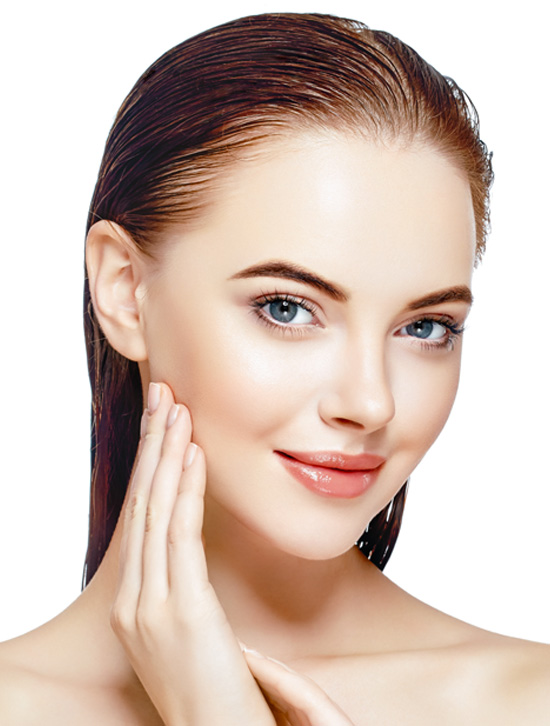 Clear + Brilliant Touch is a non-ablative fractional laser that is able to supply two different wavelengths of laser energy. Ablative lasers such as the Active FX CO2 laser, remove the outer layer of skin resulting in an extended recovery period. Non-ablative lasers such as Clear + Brilliant Touch induce a less severe, controlled tissue injury. This stimulates the skin's remodeling and the production of essential collagen. The results are milder, but non-ablative lasers are perfect for patients who want a gradual improvement in their complexion with minimal recovery time. Furthermore, non-ablative lasers are safe for all skin types. Those with darker complexions are at risk of pigmentation irregularities after being treated with ablative lasers, which can disrupt the even distribution of melanin that gives our skin its color.
The other reason that Clear + Brilliant Touch is able to work so delicately is that it is a fractional laser. Fractional lasers use a diffused form of laser energy that intentionally "misses" tiny areas of skin. By leaving these areas intact, the skin is better able to heal and recovery is quicker. (2)
Benefits
Clear + Brilliant Touch is the ideal treatment for those who are experiencing mild to moderate signs of aging and want to be proactive about their appearance. Clear + Brilliant can help stop the clock to prevent future lines, wrinkles, and looseness while improving the overall appearance of the skin. After a recommended series of three treatments, patients will enjoy gradual improvements for natural-looking results. To learn more about the other ways that Phoenix Skin helps patients look and feel renewed, follow our blog.
Candidates and Consultations at Phoenix Skin
Clear + Brilliant Touch leads the way in gentle laser treatments and is safe to use on all skin types. Ideal candidates are eager to begin a course of treatments that will gradually improve mild to moderate signs of aging. Because it requires little to no downtime, it's a great choice for busy patients who have to return to their daily routines. During your personal consultation in Phoenix or Scottsdale, we'll discuss your skin goals, and determine whether Clear + Brilliant Touch is right for you. Once we determine if Clear + Brilliant is the best treatment for you, you'll be given personalized instructions on how to prepare for your session.
What is a Clear + Brilliant Touch Session Like?
When you arrive for your appointment, your laser technician will first cleanse and treat your skin with a topical numbing cream to reduce any discomfort caused by the laser. You'll also be given a pair of goggles to wear, to protect your eyes from the powerful laser light.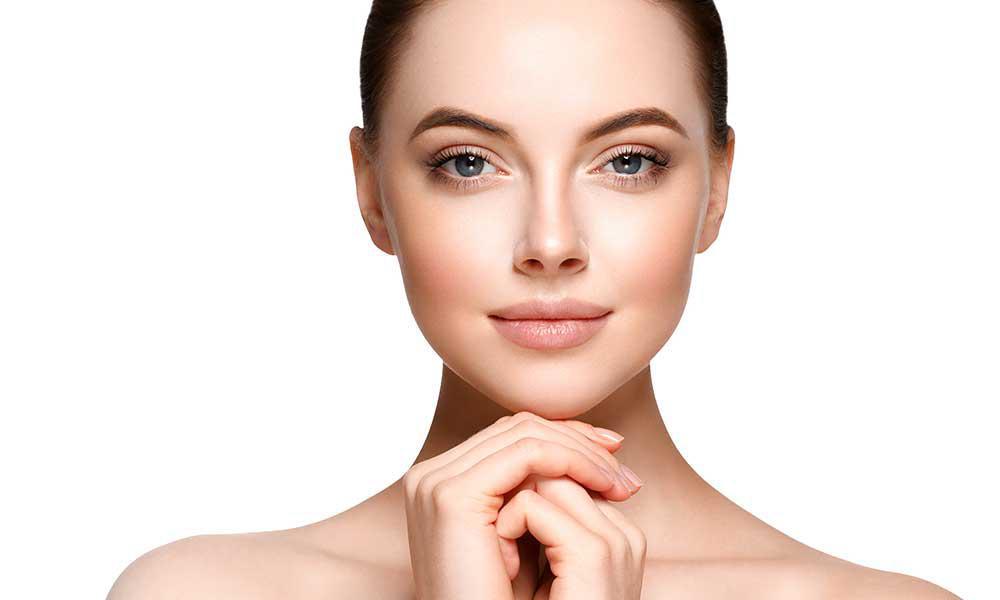 The Clear + Brilliant handpiece will be moved over your skin for 15 to 20 minutes. Your unique skin concerns and the wavelength that will treat your skin best will determine the details of your procedure. One exciting feature of Clear + Brilliant Touch is the trademarked "Intelligent Optical Tracking" which ensures that your skin gets an even and consistent dose of laser energy during your treatment.
The Clear + Brilliant Touch handpieces give a warm sensation as a result of the thermal effect that the laser is having on the skin. Some patients describe Clear + Brilliant Touch sessions as feeling prickly, while others describe it as a mild stinging sensation.
Results
Patients report mild swelling and redness after a Clear +Brilliant procedure, but unlike other laser side effects, these symptoms dissipate quickly and can be hidden with makeup. The skin will have a sandpaper-like feel to it and there will be many tiny scab-like micro injuries on the surface of the skin (these will slowly fall off after 4-7 days). Be sure to use sunblock, and avoid sun exposure for the first 7-10 days after your session. As you continue to build on your progress with additional laser sessions, you'll begin to notice firmer, smoother skin. Most patients schedule 4-6 evenly spaced appointments for the best results, and follow-up with maintenance sessions once or twice a year.
How Much Does Clear + Brilliant Touch Cost in Scottsdale?
The total cost of your Clear + Brilliant Touch procedures will depend on the number of sessions necessary to achieve results and the skin conditions that you are looking to improve. Schedule your personal consultation to learn more about this laser, and get a personalized treatment plan. After we examine your skin, we'll be able to give you an estimate as to your individual cost for a Clear + Brilliant Touch session, and how many sessions would achieve your desired results.
About Laser Skin Therapy in Phoenix
Many skin resurfacing treatments today take advantage of the body's natural healing processes. By creating small, controlled injuries to the skin, the body is "tricked" into generating a smooth, youthful layer of fresh skin. Treatments like chemical peels and microneedling remove the outer layer of damaged skin and stimulate the inner layers to create new skin cells that eventually make their way to the surface for a rejuvenated appearance. Laser treatments work similarly, but use the power of light. When light wave energy is directed into the skin, it produces a thermal effect. This heats up the natural moisture in the skin, which creates just the right amount of damage to eliminate unwanted skin characteristics like the appearance of fine lines and wrinkles, dark spots, and scar tissue. Lasers are valuable tools in improving the health and appearance of the skin because they are so versatile. Clear + Brilliant Touch treatments are an excellent way to better your skin, and take advantage of this technology's groundbreaking versatility.
Pricing
Face – $375 per treatment/Package of 3 for $1050
Hands – $250/per treatment/Package of 3 for $675
Neck add on – $150
Chest add on – $200
Arms – $400
A $50 non-refundable fee is required to schedule a consultation and can be applied towards treatment. Less than 24-hour notice for cancellation and/or no show will result in a forfeiture of the $50.
FAQ
What is Clear + Brilliant Touch?
Clear + Brilliant Touch is a laser treatment technology that offers fast and gentle treatment to reduce and prevent mild signs of aging. Unlike other lasers, it's fractional and non-ablative, and able to be safely used on a variety of skin types. 
References
Bausch Health Companies Inc. GO beyond BRILLIANT All Skin Types. Two Wavelengths. One Brilliant Treatment. ; 2020. https://touch.clearandbrilliant.com/Portals/466/pdf/SOLT-027-LUXSellSheet-L21.pdf
Preissig J, Hamilton K, Markus R. Current Laser Resurfacing Technologies: A Review that Delves Beneath the Surface. Seminars in Plastic Surgery. 2012;26(03):109-116. doi:10.1055/s-0032-1329413