Ellacor Micro-Coring
Consultations offered at our two convenient locations in Phoenix and Scottdale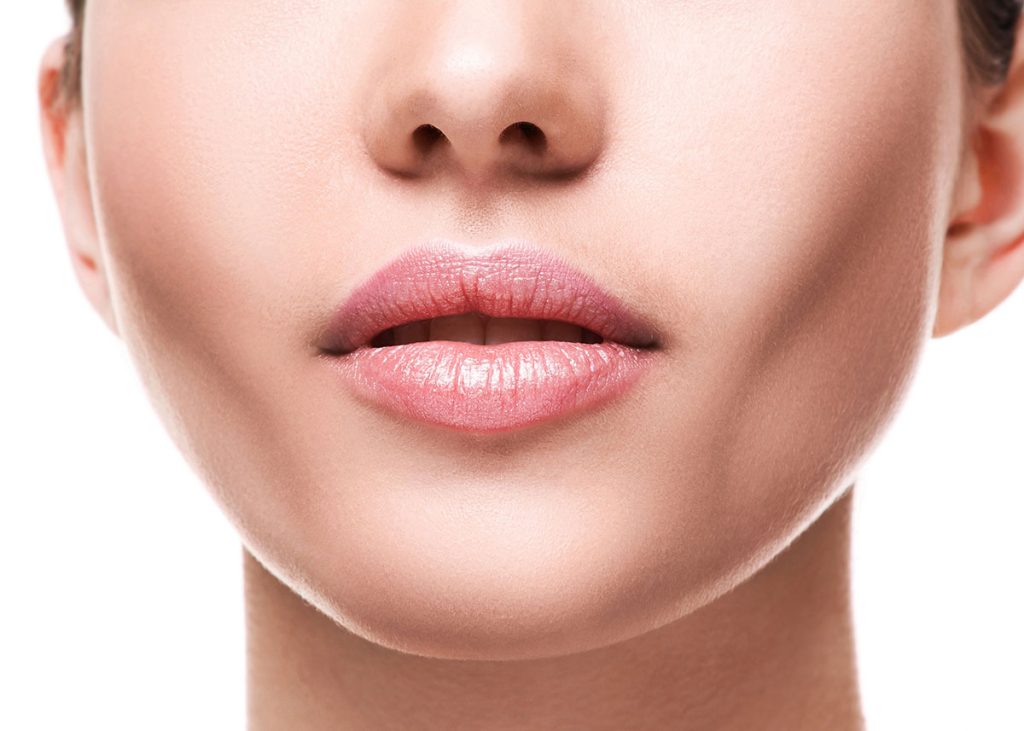 Ellacor is an innovative treatment for skin rejuvenation called tissue micro-coring.This advanced technology addresses moderate to severe wrinkles and loose skin in the mid and lower face. By utilizing hollow needles with a diameter less than 0.5 mm, ellacor extracts micro-cores of skin, effectively reducing the overall skin surface. This cutting-edge system prompts skin rejuvenation through controlled, mechanically induced injury, stimulating neocollagenesis and elastinogenesis. With its precise and minimally invasive technique, ellacor demonstrates the potential for remarkable outcomes while mitigating the risk of scarring.
Phoenix Skin Medical, Surgical & Cosmetic Dermatology is proud to bring this groundbreaking, FDA-approved system as an alternative to other traditional treatments. The immense potential of the ellacor system surpasses traditional wrinkle treatments. Ongoing studies and research are exploring the vast array of clinical applications that this groundbreaking technology can offer. With the Ellacor system, Phoenix Skin provides patients with exceptional outcomes, enhanced confidence, and a renewed sense of beauty. Say goodbye to fine lines and loose skin and welcome a youthful, revitalized appearance with the cutting-edge ellacor system at Phoenix Skin. Call 602-222-9111 in Phoenix or 480-473-9111 in Scottsdale or fill out this form to schedule your consultation appointment.
Patients should check out the Phoenix Skin blog to stay updated on the latest trends and advancements in medical, surgical, and cosmetic dermatology.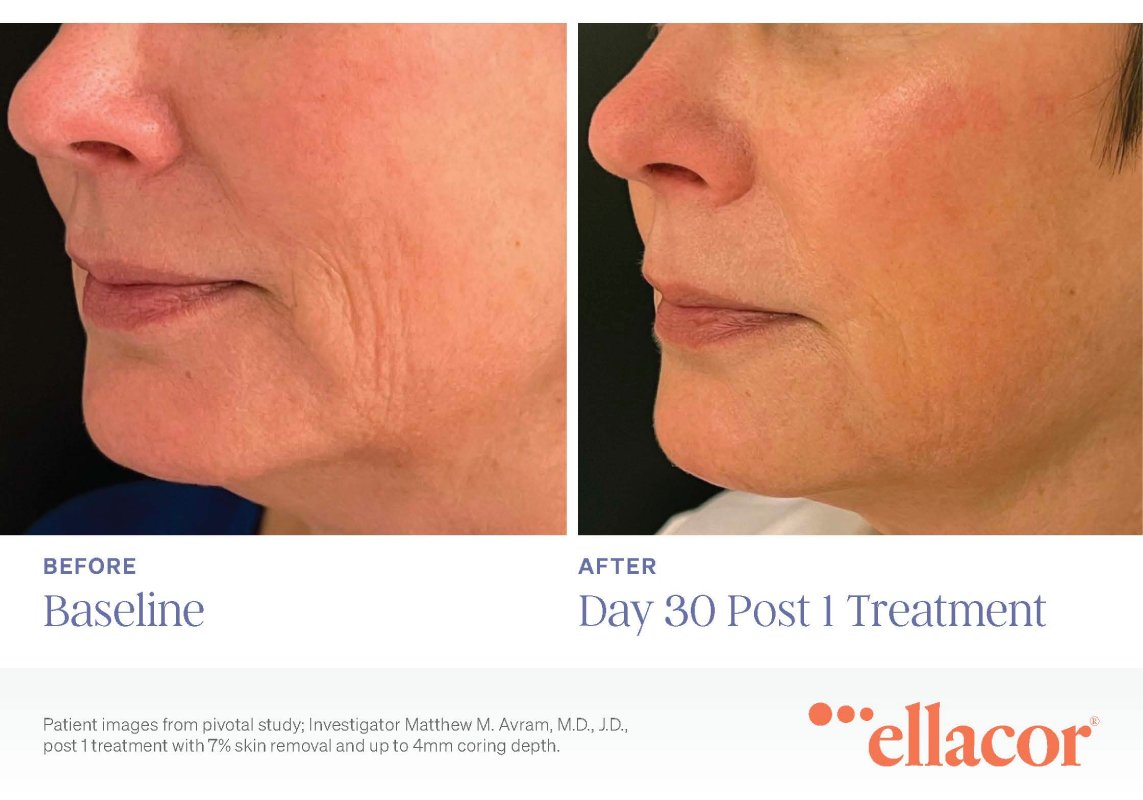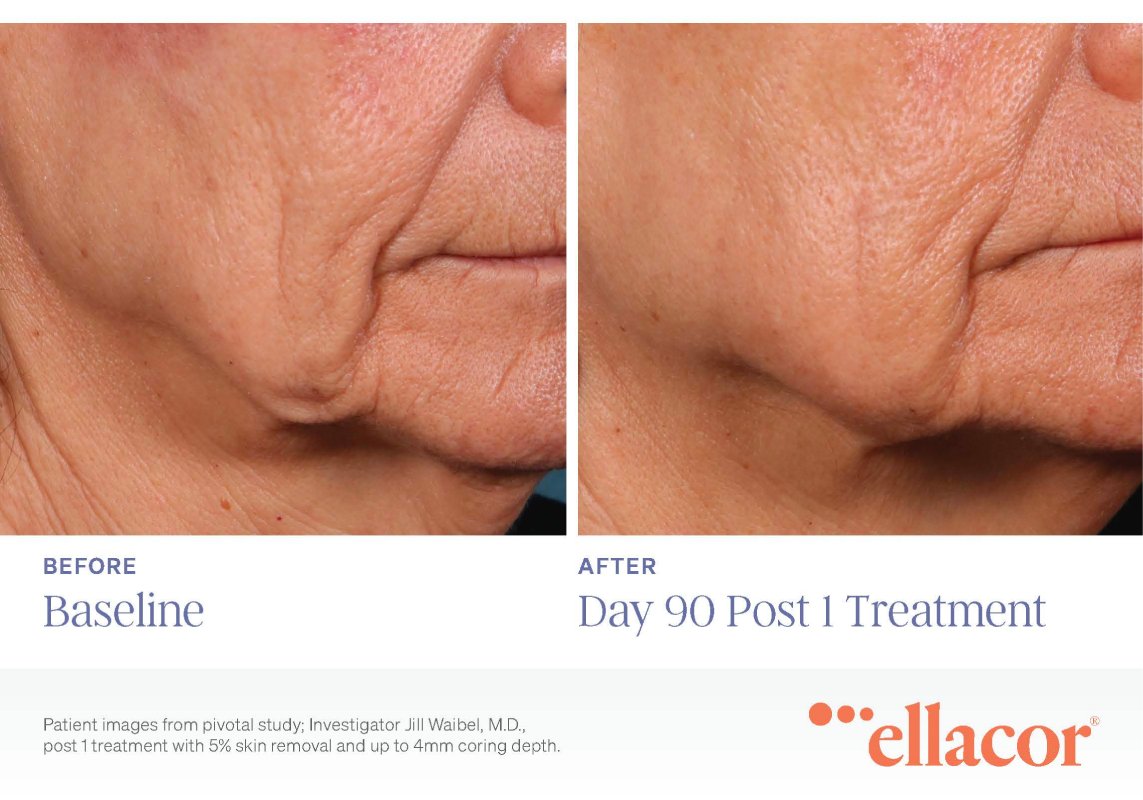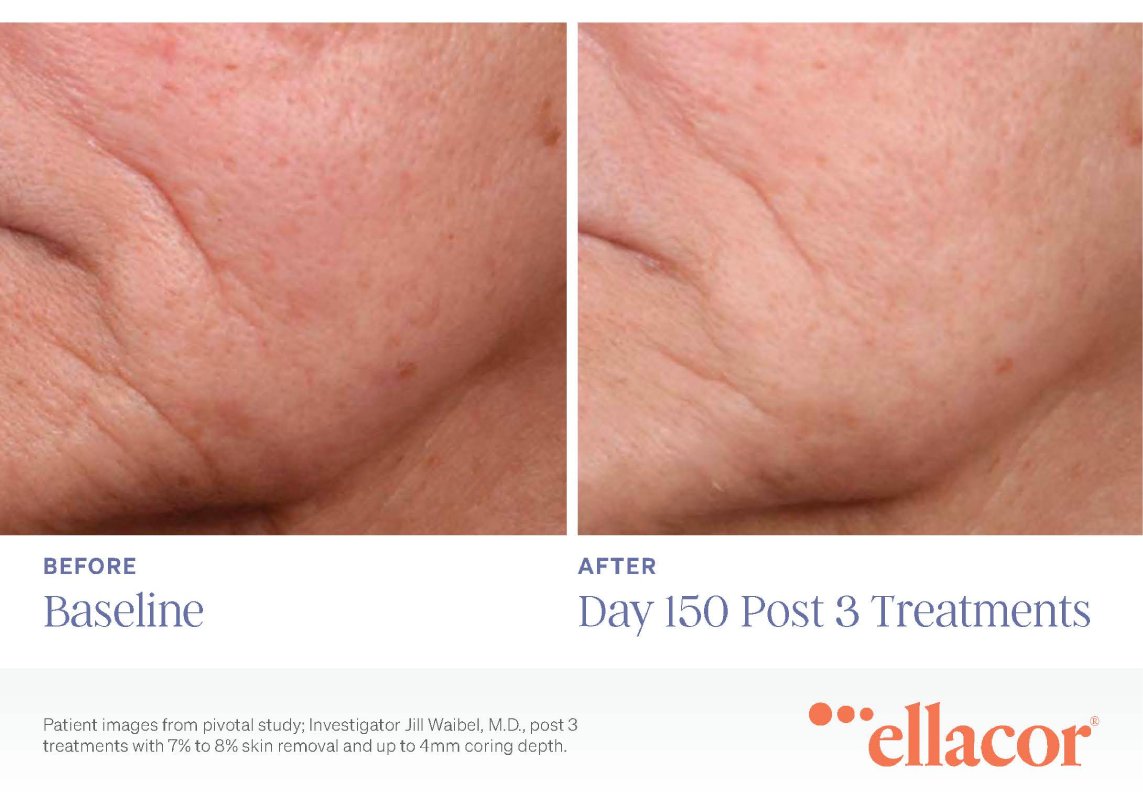 How Does Ellacor Work?
Ellacor is a groundbreaking device that selectively removes tissue in a fractional pattern, providing a unique alternative to laser therapy while minimizing potential side effects. [1]
Every year, millions of skin rejuvenation procedures are conducted, amounting to billions spent. Laser resurfacing, one of the most popular procedures, utilizes light energy to generate heat and damage the upper layer of the skin to stimulate the growth of new tissue. Ellacore focuses on percutaneous collagen induction, offering an advantage over laser treatments as it does not involve heating the skin. 
Skin Regeneration After Micro-Injuries
Human skin wounds typically heal through scarring, resulting in structural and functional defects. However, small wounds, specifically those with a diameter of 500 micrometers (μm) or less, have the remarkable ability to regenerate completely without scarring. [2] A wound with a diameter of 500 μm would be equivalent to 0.5 millimeters or approximately 0.02 inches. 
Even in cases where up to 50% of skin tissue within a treated area is removed through microinjuries, it brings about extensive enhancements in skin quality. The treatment not only improves how the skin looks but also has many positive effects on the overall quality of the skin.
Ellacor treats moderate to severe [3]:
Nasolabial folds
Marionette lines
Sagging of the mouth corners
Jawline sagging ("jowling")
Wrinkled skin in the upper lip, chin, cheeks, and neck
What are the Benefits of Ellacor?
The improvements in skin health after treatment are one of the main benefits outside of the visual improvements. They are:
Increased dermal thickness
Creation and restructuring of the structural framework of the skin
Diminished presence of abnormal or irregular cells found in the skin's outermost layer
Increased blood vessel density
Strengthened epidermal ridges
Decreased presence of aging fibroblasts
Restoration of the skin's proper response to ultraviolet light
Fractional resurfacing like ellacor's also possesses a remarkable capability to bring about significant and long-lasting improvements in skin scars. It can normalize scar thickness, reduce pain and itching and enhance tissue flexibility and movement. There have even been reports of the generation of hair follicles and sweat glands within previously scarred areas. [4]
Ideal Candidates
Candidates for this procedure are typically individuals who are seeking to address specific skin concerns such as
Wrinkles
Fine lines
Scars
Uneven skin texture
Candidates in clinical trials have had Fitzpatrick skin types I-IV, which generally correspond to lighter to moderate skin tones. We can assess your skin condition, discuss potential risks and benefits, and recommend the most appropriate treatment options for your needs.
Personal Consultation
During the consultation process, we will carefully consider patient selection and effectively manage expectations for optimal outcomes. Skin quality plays a significant role in determining the effectiveness and response to the treatment. Different individuals may have varying skin characteristics, including its elasticity, thickness, and overall health. These factors can influence the degree of improvement achievable with the procedure.
Underlying conditions can also impact the treatment outcomes. Certain medical conditions, skin disorders, or prior skin treatments may affect the skin's response to the procedure. It is important to thoroughly evaluate the patient's medical history and discuss any existing conditions.
We will also inquire about prior cosmetic treatments or interventions the patient has received. This information helps in determining the suitability of the procedure, potential interactions with previous treatments, and ensuring optimal results. Call 480-473-9111 for our Scottsdale location or 602-222-9111 for our Phoenix location. Please note: the Ellacore procedure is only available at the Phoenix office but consults may be scheduled as both locations.
Preparation
Follow any specific pre-procedure guidelines provided by our team, which includes avoiding certain medications, such as blood thinners, that can increase the risk of bleeding or bruising. You may also be advised to discontinue the use of certain skincare products or treatments prior to the procedure.
We will provide instructions on how to prepare your skin for the micro-coring procedure. This may involve cleansing the treatment area thoroughly and refraining from applying any makeup, creams, or lotions on the day of the procedure. It is important to follow these skincare guidelines to ensure optimal results.
The Procedure
The micro-coring procedure involves the following steps:
Patient Information and Settings
Ellacor has a console interface used to input basic patient information. We will adjust the percentage of skin to be removed (ranging from 1% to 8%) and the penetration depth of the needles (from 0.0 mm to 4.0 mm). These settings can be customized based on the specific needs of each patient.
Anesthesia
The procedure is typically performed under local injectable anesthesia, which helps minimize any discomfort during the procedure. Depending on the size or number of areas being treated, light sedation can be administered with local anesthesia.
Procedure Execution
Your medical technician uses a handheld device, which consists of a handpiece with a single-patient, disposable needle cartridge attached. The device is activated and the technician carefully administers the micro-coring head to various areas of the skin.
Recovery After Micro-Coring
Redness, swelling and bruising are most common post procedure. The minimal inflammation observed after ellacor means a faster recovery and reduces the risk of complications. Clinical trials involving the ellacor System have typically included up to three procedures per patient, with an average downtime of 3 to 5 days.
What are the Results of Ellacor?
In a clinical study, sites where coring was done showed increased activity of fibroblasts (cells that produce collagen) and the production of new collagen. After one month, the coring sites had significantly thicker skin, up to 196% thicker compared to the untreated areas. [1]
After three months, there was a noticeable increase in collagen fibers and the formation of new and improved elastic fibers. Tests confirmed that the coring sites had 89% more collagen compared to before the treatment. These results demonstrate that the treatment promotes skin rejuvenation and the production of collagen, leading to improved skin quality. [1] Furthermore, in regards to skin tightening, coring resulted in a noticeable reduction in the treated skin area by 9% after 28 days. [5] 
Corresponding & Complementary Procedures
Adding Platelet-Rich Plasma (PRP) to the ellacor micro-coring treatment can offer additional benefits. PRP is derived from the patient's own blood and contains a high concentration of platelets, growth factors, and other regenerative components.
PRP is known for its ability to
Stimulate tissue regeneration
Increase collagen production
Improve overall skin health
By applying PRP to the treated areas after micro-coring, it can potentially accelerate the healing process, reduce inflammation, and optimize the results. The growth factors in PRP can aid in the production of new collagen and elastin fibers, leading to firmer, smoother, and more youthful-looking skin. [6]
What is the Cost of Ellacor Micro-Coring in Arizona?
During your consultation, we will provide you with specific cost details and any potential additional fees associated with the procedure. Call 480-473-9111 for Scottsdale, or 602-222-9111 for Phoenix today!
References