Neck Lift
Consultations offered at our two convenient locations in Phoenix and Scottdale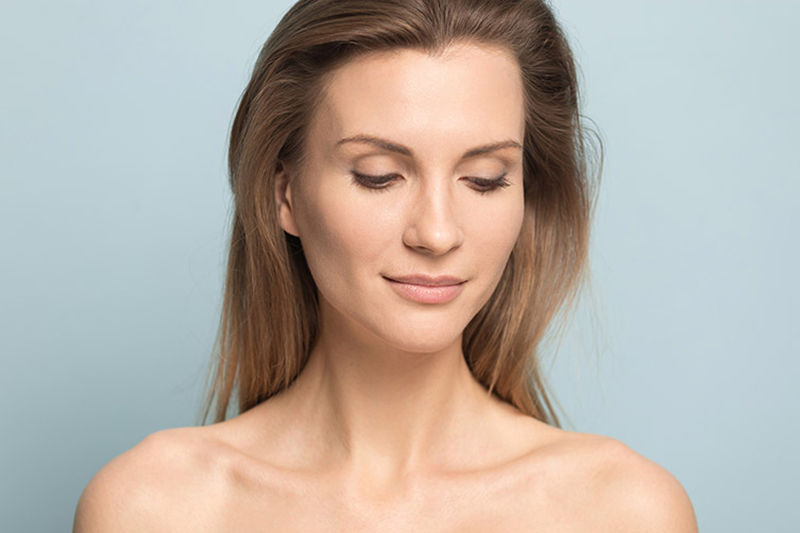 A neck lift is a surgical solution that eliminates extra skin and fat in the neck to provide a smoother, more youthful contour. [1] This procedure is popular amongst patients looking for an anti-aging solution for the neck. Besides resolving skin laxity and wrinkles, it also improves the appearance of prominent vertical banding caused by compromised neck muscles. Since 1992, Phoenix Skin Medical Surgical Group has been offering transformative results to patients from Arizona and beyond. Our practice has been recognized by the Phoenix Business Journal, Chicago Tribune, and Fox 10 Phoenix for providing excellent outcomes and world-class care. Patients wanting to know more about neck lift procedures at Phoenix Skin can contact us for a personal consultation. Please call (602) 222-9111 (Phoenix) or Scottsdale (480) 473-9111 to schedule an appointment.
Before and After Photos
About a Neck Lift
A youthful neckline and defined jawline are desirable features for those of all ages and genders. Research studies have determined that a distinct lower jawline and contoured neck enhance the overall facial appearance: a clearly defined jawline casts a shadow on the neck that emphasizes the face. Another desirable youthful feature is the cervicomental angle: the angle at which the underside of our chin meets the upper portion of our neck. [2] Unfortunately, genetics, aging, or both, can compromise the aesthetics of this part of the body. The accumulation of fat, changes to the musculature, and the development of redundant skin can cause an appearance that reveals or exaggerates our age–no matter how hard we've done to preserve our facial appearance.
A neck lift, also referred to as a platysmaplasty, concentrates on the many different underlying tissues of the neck. This involves tightening the platysma, the group of muscles that stretch from the from the jawline to the collar bones. [1][2] The procedure also allows surgeons to remove excess fat, and tighten loose skin for a smoother, more defined neck and jawline. If you've found yourself troubled by the appearance of wrinkles, sinewy-looking neck banding, or a "double chin," a neck lift may be the solution.
Benefits
A neck lift provides long-lasting, rejuvenated contours that other procedures simply can't. It offers patients:
A tightened underlying muscle structure
Removes extra skin for dramatically reduced wrinkles and creases
Eliminates fat deposits that can make you appear heavier or older than you actually are
A refreshed, youthful neck appearance that can last for 10-15 years
A straightforward procedure with minimal scarring and a short recovery
Enhanced self-esteem
Candidates
If you're considering a neck lift, we invite you to make an appointment at one of our offices in Phoenix or Scottsdale. A medical professional will meet with you to explain the procedure in detail. A neck lift is an involved surgical procedure, so not everyone is an eligible candidate. However, ideal candidates are:
Comfortable undergoing surgery
Looking for a long-lasting solution to reduce signs of aging in the neck
Desire better definition for the chin and jawline
In good general health and without underlying health conditions
Willing to follow aftercare instructions diligently
Able to commit the time to rest and healing for an optimal recovery
Personal Consultation with Phoenix Skin Medical
Our board-certified physicians and physician's assistants combine the latest techniques, state-of-the-art equipment, and individualized approaches to ensure that each patient enjoys the best experience and results. After getting to know more about you and your aesthetic goals, we will look at the underlying structure of your neck, including any separation present in the platysma, signs of glandular enlargement, and fat deposits. The condition of your skin and the degree of laxity present will also be assessed. Depending on your medical history and the extent of visible aging, we may recommend other procedures to better accomplish your objectives.
Book a one-on-one session with our medical team by calling (602) 222-9111 (Phoenix) or Scottsdale (480) 473-9111.
Preparation
Neck lift patients should prepare carefully in the weeks before surgery, and follow the instructions supplied by their surgeon. They include:
Provide us with a list of all medications you are taking, including vitamins and herbal supplements.
Stop smoking to ensure a smooth procedure and speedy healing process.
Set up a recovery area filled with essential items and medications within easy reach.
Take the recommended time off work to concentrate on recuperating.
Find someone you trust to drive you home after surgery.
Do not consume food or liquids 8 hours before your surgery time.
Procedure
We will make sure you are comfortable by administering the appropriate anesthesia. Once this takes effect, our medical team may carry out the neck lift techniques based on your treatment plan.
During a neck lift, an incision is typically made at the hairline near the sideburns and travels downward around the earlobe, ending near the hairline at the back of the neck. [2] The skin is lifted, allowing the surgeons to remove excess fat, and they may use liposuction to do so. The underlying tissues will then be repositioned, and the platysma muscle fibers reinforced or removed. Next, skin is redraped over the new contours, and excess skin is removed for a smoother, firmer appearance. The incisions are then sutured closed, discreetly hidden along the contours of the ears and hairline. [3] Patients looking to resolve a double chin may require a short additional incision under the chin. This allows the surgeon to remove unwanted fat, and reattach the separated platysma muscles for smoother contours and better chin definition. After all the incisions have been sutured closed, patients will be placed in a supportive chin and head strap and moved to a recovery room to be monitored until they are cleared to return home.
Recovery
After you return home, you'll need to spend the first few days resting. Keeping your head elevated when resting will help with any bruising, swelling, and tightness. It is important to protect your neck and incisions during this time. Avoid sharp movements, and opt for shirts that button up to avoid stressing the area. You'll return to Phoenix Skin for regularly scheduled follow-up appointments so that we can monitor your progress and answer any questions that arise as you heal. Within 1-2 weeks, you should be okay to return to light activities. Please wait an additional month before resuming exercise and strenuous activity.
Results
Once swelling has fully subsided, you'll enjoy a noticeable difference in your appearance with a more refined, elegant neck contour. Incorporating healthy habits and a good skincare routine can help maintain your results. Read through our blog posts to get an idea of what your results may look like or learn more about other procedures.
Corresponding & Complementary Procedures
Phoenix Skin is proud to offer patients several options for rejuvenation and skin health. If you are considering a neck lift, you may benefit from other procedures that can enhance the results of a neck lift or can be done separately.
Mini-Facelift
Patients wanting more comprehensive improvements for the face and neck can do so by pairing a neck lift with a mini-facelift. Many of our patients combine these two treatments for an enhanced aesthetic. A mini-facelift is less invasive than a traditional facelift and concentrates on improving skin laxity in the lower third of the face, making it an excellent way to eliminate the appearance of jowls. It involves incisions similar to a neck lift, so patients can easily enjoy the benefits of both procedures while avoiding additional incisions and recovery time. Muscles are then tightened, skin is smoothed, and excess skin is removed to reveal more youthful contours.
Liposuction
Liposuction is a versatile treatment used to remove fat from many areas of the body, including the neck. Since the procedure removes fat, not extra skin, it is excellent for patients 20-60 years old, as they tend to have good skin elasticity and are chiefly concerned with fat deposits. The process involves removing unwanted fat in the neck and jawline to sculpt a slender, youthful neck.
Ultherapy for the Neck
Patients preferring a non-surgical alternative to counteract the effect of aging in the neck can choose to have Ultherapy. The treatment places a device on the surface of the skin to deliver highly focused ultrasonic waves to the deep layers of tissue. This creates a skin-tightening thermal effect and triggers the body to increase collagen production for long-term improvement.
Cost of a Neck Lift in Phoenix, AZ
We will discuss the details of your procedure at your initial consultation. Preliminary costs for a neck lift start at $6,000.  A popular procedure to the compliment a neck lift is a mini facelift. The cost of a mini facelift is also $6,000 but a mini facelift and the neck lift can be performed together in one surgery for a total price of $10,000. We encourage patients to check out our financial and specials page to assess their funding options. 
FAQ
How soon can I return home after my neck lift procedure?
A neck lift procedure is an outpatient treatment, meaning you are free to go home the very same day as your surgery. After a brief observation period, you'll be discharged to your designated caregiver to return home and concentrate on recovering.
Will a neck lift give me scars?
Neck lift incisions are strategically placed so that they are concealed by the natural curves of the ears and in the hairline. These incisions are made and sutured closed with the utmost care by our surgeons in order to minimize any scarring.
References
Marten, T., & Elyassnia, D. (2018). Short Scar Neck Lift: Neck Lift Using a Submental Incision Only. Clinics in Plastic Surgery, 45(4), 585–600. https://www.researchgate.net/publication/327991504_Short_Scar_Neck_Lift_Neck_Lift_Using_a_Submental_Incision_Only
Weinstein, A. L., & Nahai, F. (2022). A layered approach to neck lift. Plastic and Aesthetic Research, 2021. https://doi.org/10.20517/2347-9264.2020.192
Zins, J. E., & D'Souza, MD, G. F. (2017, March 25). Commentary on: Characterization of the Cervical Retaining Ligaments During Subplatysmal Facelift Dissection and its Implications. Academic.oup.com. https://academic.oup.com/asj/article/37/5/502/3090054?login=true