PRP for Hair Loss
Consultations offered at our two convenient locations in Phoenix and Scottdale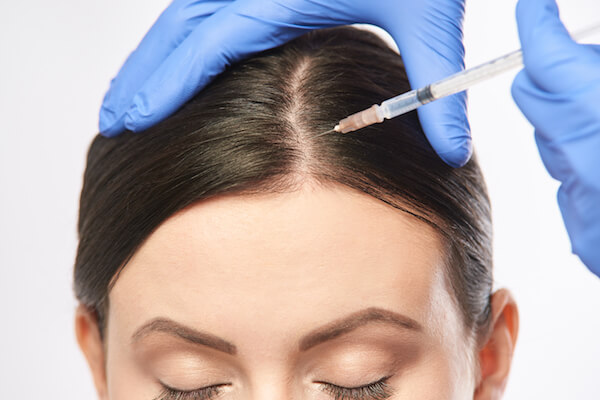 Platelet-rich plasma (PRP) is used to stimulate the growth of hair for both men and women. The technique reduces the effects of hair loss and thinning by treating the scalp directly. PRP has helped regrow hair that has receded due to hereditary hair loss. It also treats other causes of hair loss such as hormonal changes, stress, age, surgery, illness, and more.
If you've suffered from hair loss, consider a PRP treatment with Dr. Lee Laris. He was one of the first surgeons certified by the American Board of Hair Restoration and he can apply his vast knowledge of PRP to your case. Under Dr. Laris' esteemed leadership, Phoenix Skin Medical, Surgical & Cosmetic Dermatology is innovating the future of hair growth, one client at a time. Contact us online or call one of the following numbers to connect with our attentive, knowledgeable staff.
Phoenix: (602) 222-9111
Scottsdale: (480) 473-9111
About Platelet-Rich Plasma
Your circulatory system forms a vast network of nourishment and health maintenance. It provides oxygen throughout the body, and regulates our body temperature. Among other important functions, plasma carries waste material and carbon dioxide to be processed by our vital organs. However, our plasma has the potential to do so much more.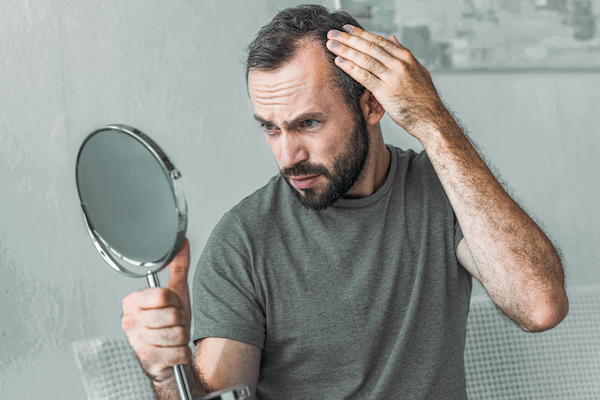 Blood contains specialized cells called platelets, named for their flat, round shape. The oblong structure of platelets makes them ideal for clotting in the event of an injury. Platelets form a cohesive mesh that patches wounds and stops blood loss.
But platelets do not simply clot automatically; they communicate with one another on a cellular level. Platelet microvesicles (PMVs) act as chemical signals between cells, organizing them for action whenever – and wherever – they are needed.[1] The platelets gather at the site of a wound and promote healing and health maintenance.
By processing a blood sample, doctors can now derive platelet-rich plasma (PRP) from your own body. Your own biological material contains the ingredients necessary to transform skin and hair growth problems into vibrant rejuvenation opportunities.
"We see in the platelets' growth factors, and growth factors are natural in our system. When we get a cut, platelets go to that area and heal those cuts. Those growth factors can also stimulate stem cells, and stem cells are in the root of our follicles. So we're using those growth factors to stimulate stem cells to grow new hair."

Lee Laris, D.O.
Before and After Photos
Benefits of Hair Treatment
When hair loss changes your appearance, it can affect your confidence. There are many hair-loss treatments currently on the market, but none combat distressing hair loss in the way that PRP therapy does. The main benefit of PRP treatment is how it harnesses your own biology to create lasting and natural results.
The platelets in your blood contain the power to regenerate hair growth when properly applied. Dr. Laris can isolate your platelets and perform PRP therapy to rejuvenate your follicles and encourage your own organic hair growth.
Benefits of Platelet-Rich Plasma
No chance of allergic reaction because the PRP is derived from your own blood
Minimally invasive, resulting in only a series of pinpricks along the scalp
Stimulates growth on a cellular level
Long-lasting results
To experience the benefits of PRP therapy for yourself, please contact Phoenix Skin Medical, Surgical & Cosmetic Dermatology.
Videos
Eligible Candidates
In order to successfully regrow hair with the help of PRP, you must have enough viable platelets in your blood to contribute to the procedure. Dr. Laris and his associates will evaluate your plasma sample and determine your eligibility for PRP treatment during your comprehensive consultation.
Private Consultation in Phoenix
If you're considering PRP therapy for hair growth, visit Dr. Laris. It's his mission to help his patients improve their appearance and confidence. You can expect a discreet, personal consultation where you will be given the chance to tell your story, and share your ideas. After conversation and an examination, Dr. Laris will be able to explain a treatment regime that is tailored to you. Please be ready to share your medical history and future goals with Dr. Laris so he can devise the best strategy for your hair restoration. Feel free to read through our blog posts and bring any questions that you may have to your appointment.
On the day of your consultation, the doctor will perform a brief physical examination of the area experiencing hair thinning or balding. Dr. Laris can then tailor his recommendations to your unique case.
The cost of the consult is $75. If PRP treatment is administered, your consult fee will be applied to the treatment. If it is determined that PRP is not an option, a regular office visit charge of $75 will be applied or processed through your insurance plan.
Preparation and PRP Procedure
PRP is derived from your own blood. After a quick blood draw, it is spun in a centrifuge to isolate the PRP. The PRP is then delivered via injection to the required areas for hair growth. Platelets in the blood have an important job to promote healing. This is possible thanks to their growth factors and proteins that assist in regenerating cells in the body. PRP for hair loss stimulates the inactive hair follicles into an active growth phase.
The recommended treatment schedule for PRP is once every month for 4-6 months or until your desired result is reached, with quarterly maintenance treatments thereafter.
Dr. Laris uses a microneedling device to deliver PRP into small channels beneath the skin. The process produces tiny pin pricks. The PRP serum penetrates the treated area and makes contact with the hair follicles.
Rapid Recovery
Since the PRP process is minimally invasive, the downtime is also minimal. Dr. Laris will give you detailed aftercare instructions to allow your treatment area to heal thoroughly. Do not rub or itch the affected scalp for 24 hours following a PRP session. Contact Phoenix Skin Medical, Surgical & Cosmetic Dermatology with any questions you have about your recovery process.
Remarkable Results
PRP therapy invigorates the scalp, and your self-confidence. This treatment results in a healthier more resilient epidermis, and active hair follicles in the treatment area.[2] In the span of two weeks, the skin is thriving at a level that would not be possible without the vitalizing effect of this strategically placed platelet-rich plasma.
To get a preview of how satisfied you will be with Dr. Laris' work, please visit our glowing reviews page. Phoenix Skin is proud to provide 5-star service to our Arizona communities, and we are eager to add you to our roster of happy, healthy clientele.
Complementary Procedures
PRP is a wonderful complement to a follicular unit hair transplant procedure. A "unit" of follicles is a microscopic cluster of healthy cells, usually found at the back of the head where hair growth is the most robust. Dr. Laris can identify viable follicles, isolate them, and gently transplant them to the site of balding or thinning.
Dr. Laris has performed over 15,000 hair transplant procedures over the course of his career. PRP is ideal for maintaining the results of a hair transplant session or to help stop the loss of hair in the areas adjacent to a transplant. This ensures that your hair restoration is consistent and natural-looking.
Cost of PRP in Phoenix
The cost of platelet-rich plasma therapy depends on the extent of your hair loss. During your comprehensive consultation, Dr. Laris can determine the size of the treatment area and provide transparent pricing for your recommended PRP regimen. Phoenix Skin generally charges $385 for a small treatment area, or $990 if you purchase a package of three sessions in advance. For larger areas, the cost is $770 for one session or $2,145 for three. Contact Dr. Laris to begin your journey to a full, healthy, natural head of hair.
FAQ
Does PRP really grow new hair?
Yes, platelet-rich plasma (PRP) therapy invigorates follicles by treating them with the healing power of your own biology. The platelets in your blood are concentrated into a rejuvenating serum applied directly to the scalp, where they stimulate growth. To learn more about PRP for hair restoration, call (602) 222-9111 for our Phoenix location or (480) 473-9111 in Scottsdale.
What is the success rate of PRP hair treatment?
PRP takes several months to show results, but different clinical studies have shown patients regrowing a significant percentage of lost hair.(2) In another 6 month study, PRP out performed Rogaine. This study also found that the level of platelets in your PRP can determine the effectiveness of this treatment. (3)
References
Edelstein, L. C. (2017). The role of platelet microvesicles in intercellular communication. Platelets. 28 (3) 222-227. DOI: 10.1080/09537104.2016.1257114
Cervelli, V., Garcovich, S., Bielli, A., Cervelli, G., Curcio, B. C., Scioli, M. G., … & Gentile, P. (2014). The effect of autologous activated platelet rich plasma (AA-PRP) injection on pattern hair loss: clinical and histomorphometric evaluation. BioMed Research International, 2014. https://doi.org/10.1155/2014/760709
Jewell T. PRP Hair Treatment Success Rate: Does It Work for Hair Loss? Healthline. Published February 12, 2020. Accessed January 28, 2021. https://www.healthline.com/health/prp-hair-treatment-success-rate#does-prp-work-for-hair