Venus Freeze
Consultations offered at our two convenient locations in Phoenix and Scottdale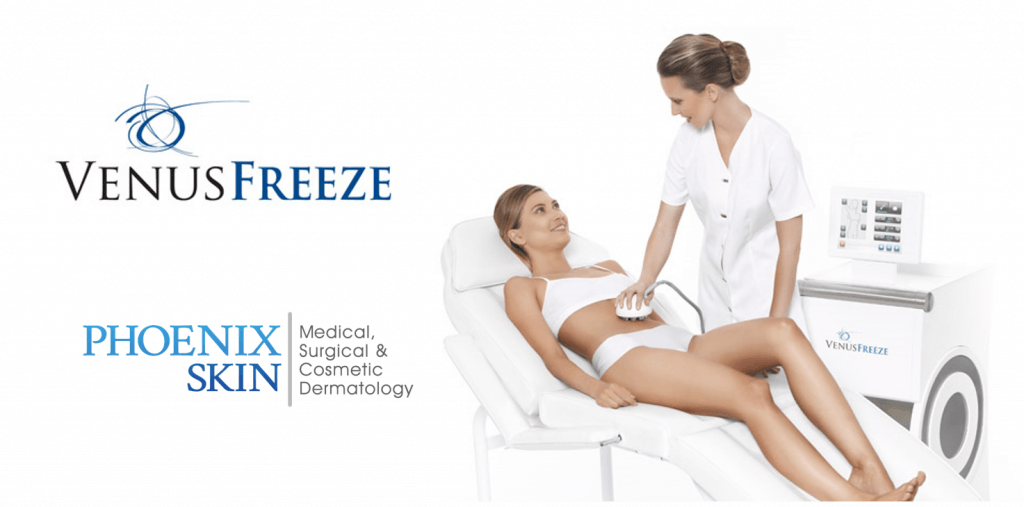 Venus Freeze is an FDA approved, non-surgical treatment to firm and tighten skin of the face, neck and body. Venus Freeze may also be used for body contouring and cellulite reduction. This technology focuses on "freezing time", but it is not a cold treatment.
Skin Tightening and Wrinkle Reduction
Venus Freeze uses (MP)², a combination of multi-polar radio frequency and pulsed magnetic fields; which uniformly heat up the tissue in the skin, stimulating collagen-making cells and fibers. Collagen reduces the appearance of wrinkles and increases the tightness and elasticity of the skin, thus creating a more youthful look. Many patients chose the Venus Freeze because it is safe for all skin types, as it does not use laser or light components.
Cellulite Reduction and Circumferential Reduction
(MP)² penetrates the deeper layers of the skin to break down fat cells by improving blood flow. It can also increase the activity of hormones in the treatment area that assist in breaking down fat and releasing the fat storages. Releasing these fat storages may result in reducing the circumference and cellulite of the treatment site.
Treatments
Depending on desired outcomes, we recommend 6 treatments for the face or 8-10 treatments on the body, once each week. After the initial treatment period touch ups are encouraged a few times each year. Treatments take 15-45 minutes, depending on the area.* Patients describe the feeling of the treatment as that of a hot rock massage.
The treatments are painless and there is no downtime.*
Results can be seen immediately!*
Pricing Information
Service

Price

Full Face

$

360

Neck

$

360

Decolette

$

180

Arms

$

360

Hands

$

180

Eyebrows

$

180

Eye Laxity

$

180
Call today for a consultation!
A $50 non-refundable fee is required to schedule a consultation and can be applied towards treatment. Less than 24-hour notice for cancellation and/or no show will result in a forfeiture of the $50.
FAQ
How long does the procedure take?
Treatment time varies depending on the area(s) treated, and can range from 15-45 minutes.*
What can I expect post-procedure?
Mild redness can be expected post treatment, but there is no downtime and patients can return to normal daily activities immediately following.*
How long do the results last?
After a series of 6 treatments is completed, maintenance treatments are recommended every 6 months.
When will I see the results?
Most results can be seen immediately and will continue to improve over the next couple months.*