Eyelid Lift / Blepharoplasty
Consultations offered at our two convenient locations in Phoenix and Scottdale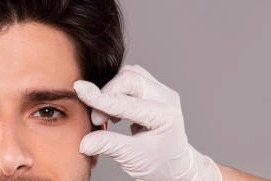 Eyelid surgery (blepharoplasty) is a procedure that can correct a variety of issues involving the eyelids. It also helps restore a more youthful and alert appearance. Eyelid surgery can address the cosmetic concerns of sagging or droopy eyelids and under-eye bags, and solve functional problems such as vision impairment and tension headaches.
Ptosis, or sagging of the eyelids, can cause discomfort, annoyance, and other struggles in daily life. But there's no reason to suffer in silence or adjust your lifestyle. A recent survey of ophthalmic surgeons found that they each perform nearly 300 blepharoplasties a year, 70% of which were to remedy medical, rather than cosmetic issues. [1] Eyelid surgery to correct droopy or sagging eyelids, also called eyelid ptosis, has grown to become much more common than many people realize. And, it's a powerful way to turn back the clock.
Dr. Lee Laris specializes in surgeries that improve quality of life. Dr. Laris combines his surgical experience with the intricacies of eyelid anatomy and a refined aesthetic sensibility. He's pleased to offer beautiful and effective blepharoplasties to his patients in Scottsdale and Phoenix. Contact Phoenix Skin Surgical Medical Group to schedule a consultation. You can reach our helpful staff in Scottsdale by calling (480) 473-9111, and in Phoenix at (602) 222-9111.
Don't wait another day. Phoenix Skin Medical, Surgical & Cosmetic Dermatology has multiple locations in Phoenix and Scottsdale.
About
Eyelid complaints are nothing new: 10th-century Arabian physicians identified the impairment of vision that resulted from droopy or sagging eyelids and began to perform eyelid surgeries to correct eyelid ptosis. These are the first recorded instances of early surgeons performing eyelid surgery. The term blepharoplasty appeared in 1818, coined by Karl Ferdinand Von Graefe, a Prussian surgeon and the father of Albrecht von Gräfe, a pioneer of ophthalmology. Since then, eyelid surgery has evolved into one of the most popular functional and cosmetic procedures today.[2]
A blepharoplasty can be performed on the upper and lower eyelids. It can address dangerous vision impairments, but it can also revitalize the eyes' appearance. Blepharoplasties are a popular solution for women with "hooded" eyes, or those who want a "creased" upper eyelid. A tight upper eye with a clearly visible crease in the eyelid is valued for the bright, alert expression it imparts, and the ability it has to show off eye makeup and lashes. A blepharoplasty is a safe and effective way to protect your sight and improve your confidence.
Before and After Photos
Benefits of Blepharoplasty
Reduces bags under the eyes
Tightens puffy eyelids
Corrects sagging or droopy eyelids
Restores a youthful appearance
Eliminates the illusion of anger or fatigue
Reduces symptoms of tension headaches in some patients
Improves range of vision
Candidates
Most candidates for eyelid surgery are over 30 years old and seek a more youthful appearance or want to correct a functional condition. Some patients may experience problems with their vision associated with the eyelids or suffer from headaches that result from straining to see. Ideal candidates should be in good health and be non-smokers. One of our experienced surgical assistants will determine whether you are a good candidate for a blepharoplasty during your personal consultation. To learn more about the other dermatological and cosmetic services we offer, and what procedures might address other concerns, follow our blog.
Personal Consultation
Phoenix Skin is a safe place to discuss all of your medical and aesthetic goals. We're here to listen to all your concerns and craft a tailored treatment plan that will achieve those goals. During your initial consultation, we'll review your medical history and examine your eye area to determine how to approach your blepharoplasty and resolve your functional or aesthetic concerns. If you're ready to improve your eyelids and learn if a blepharoplasty is right for you, contact Phoenix Skin's offices in Scottsdale or Phoenix today. We can't wait to see you.
Preparation
You'll be given detailed instructions as to how to prepare for your procedure prior to your surgery, and it's important to follow them in order to ensure a smooth procedure and recovery. You may be prescribed medication, or instructed to avoid certain pharmaceuticals or medication like aspirin and other anti-inflammatories. These medications can thin the blood and increase the risk of complications and side-effects. Smoking carries many health risks, but it can also negatively impact your surgery and complicate your recovery.
Procedure
On the day of your surgery, Dr. Laris will ensure that all your questions have been answered, and that you're comfortable to begin.
Your blepharoplasty is an outpatient procedure. Our surgical team will likely give you local anesthesia and mild IV sedation. Depending on the complexity of your surgery, the duration of the procedure could be 45 minutes or longer.
An eyelid lift can correct functional issues or be performed for cosmetic enhancement. For issues relating to the upper eyelid, the incision will be placed in the natural eyelid fold to create a small crease in the upper lid. For issues in the lower eye area, the incision is made below the lash line in the lower lids. The excess skin is excised and the extra fat is removed from the upper and lower eyelid.
Additional tissue may also be removed from the upper outer corners of the eyes to address where the wrinkling in the skin is most abundant. The incisions are closed, leaving a fine scar that is barely visible with time as they are placed within the normal creases and folds of the upper and lower eyelids.
The result is a younger, brighter appearance of the eyes and face and in some cases, widening of visual field. Ptosis repair can often be an essential fix to reviving a youthful visage as well as ensuring proper vision.
Recovery
Make sure you've scheduled a ride home from eyelid surgery. You can expect watery eyes, sensitivity to light, some swelling, and discomfort. You may have a gauze dressing over your eyes. It's important to avoid any physical activities for the next 24 hours. Use any eye drops that Dr. Laris has provided or prescribed for you. The swelling and redness will usually persist for about a week. During your recovery, stay hydrated and avoid alcohol. Use a cold compress or ice on the swollen area to reduce the swelling and irritation. Wear dark sunglasses if you have to go out in the sun, and avoid any strenuous activity for two weeks after your procedure. Also, try to limit screen time. Excessive viewing of a computer screen or tablet can irritate your eyes.
Profound Results
While the eyelid might seem like a small part of your overall anatomy, it can be extremely important. Eyelid surgery can correct conditions that arise from droopy eyelids that impair vision and persistent inflammation in the periorbital region. Medical surveys also suggest that eyelid surgery to repair ptosis can also effectively treat chronic tension headaches and improve the quality of life in some patients.[3] Overall, blepharoplasty shows very good outcomes with high levels of patient satisfaction.[4]
Complementary Procedures
Blepharoplasty can rejuvenate the eyelids. But for the baggy and drooping skin between the eyelid and the eyebrow, a browlift is recommended. Also known as a forehead lift, this procedure elevates and reshapes the eyebrow region. An incision is made above each temple just behind the hairline, to lift the brows and forehead. This also allows eyes to appear bigger and brighter, and lifts the skin on the sides of the face and cheekbone area to create a more youthful look. If patients are seeking a rejuvenated appearance, Botox injections can improve the final results of any facial surgery. Botox, a neuromodulator, can prevent additional wrinkles from forming, and improve the appearance of lines in other areas of the face.
What is the Cost of Eyelid Surgery in Arizona?
During your consultation at Phoenix Skin, we'll be able to provide an accurate price for the procedure. The cost of your procedure will depend upon the kind of surgery you've chosen, and the techniques necessary for your desired results. We have several financing options available to organize a payment plan and make your goals a reality.
FAQ
How long does the procedure take?
The procedure itself takes a little over an hour.* Total procedure takes 3 hours with pre-op, surgery and post-op recovery.*
What can I expect post-procedure?
As with any surgery, mild to moderate pain and discomfort is expected, but managed with prescribed pain medication and cold compresses.*
How long do the results last?
Eyelid lift results lasts around 5-10 years, but depend on your lifestyle and will be affected by continued aging, gravity and the elements.
Does eyelid surgery leave visible scars?
No. Upper eyelid surgeries use tiny incisions placed in the crease of the eyelid. Most lower eyelid surgeries these days use transconjunctival incisions, which means the incision is placed on the inside of the lower eyelid. Any scarring will be hidden.
References