Physician Assistant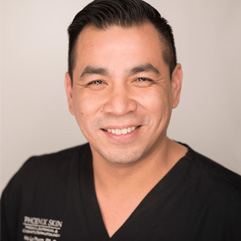 Ha graduated Cum Laude from Midwestern University of Osteopathic Medicine in Glendale, Arizona in 2006 with a Bachelor's degree in Biomedical Science. He went on to earn dual degrees in Master of Medical Science and Certification of Physician Assistant Studies from Saint Francis University in Loretto, PA and AACC Physician Assistant Program in Arnold, MD in 2009.
Ha's passion for dermatology began in 2000 when he worked with Dr. Laris as a Medical Assistant. After completing his bachelor's degree, Ha moved to Maryland where he began Physician Assistant studies.
Upon graduating in 2009, he returned to practice dermatology in Arizona. Since then, Ha has provided dermatological care all over urban and rural areas of Arizona such as Casa Grande, Yuma, Wickenburg, Mesa, Fountain Hills, Glendale, and Scottsdale. Ha return to Phoenix Skin Medical Surgical Group in 2016.
Ha is also a national speaker for several pharmaceutical companies in the treatment of psoriasis and acne. He is also fluent in Vietnamese and enjoys traveling, sports, fishing and spending time with his two children.
Phone: (602) 222-9111
Email: [email protected]
Education
Bachelor of Biomedical Science degree – Midwestern University of Osteopathic Medicine
Master of Medical Science – Saint Francis University (2009)
Certification of Physician Assistant Studies – AACC (2009)
Certified by the National Commission on Certification of Physician Assistants (2009)
Certificates
Bachelor of Biomedical Science
Master of Medical Science
Master's Degree – Physician Assistant Studies
Memberships
American Academy of Physician Assistant
Maryland Academy of Physician Assistant
Phoenix Dermatology Society
Arizona Society of Dermatology Physician Assistant